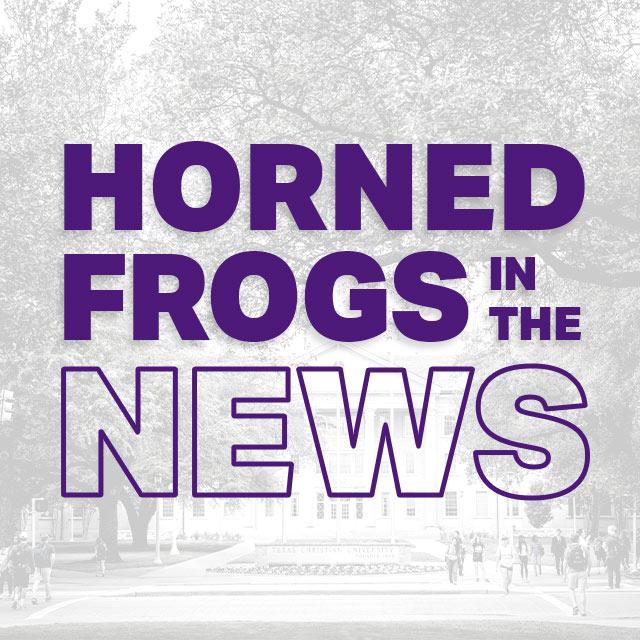 July 16, 2021
From Disney dinners and gold medals to health equity and political walkouts, TCU and
its faculty and alumni are being featured in the news. Check out the latest roundup
of newsworthy Horned Frogs. 
INSTITUTIONAL
Fort Worth M.D. school class of 2025 arriving by July 12 
July 9, 2021
Fort Worth Business Press
The 2025 class of medical students at the TCU and UNTHSC School of Medicine will begin their academic year July 19. Sixty new medical students at the TCU and
UNTHSC School of Medicine will be some of the first students in the nation making
their return to campus for in-person learning when they arrive on July 12, the school
said in an announcement.
FACULTY
Stan Block, the 'Iron Man' of academia and 'Mr. TCU,' dies at 81
July 15, 2021
Fort Worth Star-Telegram
At the podium, in the front of the lecture hall, is where Stanley "Stan" Block impacted the lives of students for 45 years. "His life was wrapped up in teaching,"
said Larry Lockwood, the Dr. Stan Block Endowed Chair in Finance and faculty adviser for the Educational
Investment Fund at TCU. Block taught finance at TCU for more than four decades. His
genius in the field left an impact on students and the world of finance and education.
He wrote numerous bestselling textbooks, selling over a million copies worldwide.
Tarrant County's controversial ICE contract is here to stay. This is what to know
about the program.
July 15, 2021
KERA News
Last year, Tarrant County commissioners renewed a controversial immigration program,
and got rid of its expiration date. The 287(g) agreement allows local sheriffs' deputies
to carry out some of the responsibilities of U.S. Immigration and Customs Enforcement
agents. They identify undocumented inmates in the Tarrant County Jail and flag them
for ICE. Emily Farris is a political science professor at TCU who studies county sheriffs. "This isn't a
policy that's being made or decided because of data or because of community input,
but out of politics and Republican politics," she said. 
What Does It Mean to Be a Bridesmaid in 2021? 
July 14, 2021
Vogue
The murky origin story is that wedding parties started in both the Roman Empire—where
legally, you needed several witnesses to a wedding—and feudal China. "A bride would
have attendants to protect her from evil spirits," Angela Thompson, sociology instructor, told The New York Times in 2018. "By having several women who are dressed alike, the spirits, or kidnappers,
wouldn't know which person was the bride."
Politcal perspective: Texas Democrats walk out
July 13, 2021
WFAA
Jim Riddlesperger, professor of political science, talked with WFAA midday anchor Cleo Greene. "What
we have going on here is political theater," Riddlesperger said. "In the narrow sense,
the bills will eventually pass in Texas. In the larger sense, Democrats hope they
can use this publicity as a way of limiting the ability of state legislators to trim
voting rights in the long haul."
TCU's Jim Riddlesperger talks Texas Democrats leaving the state
July 12, 2021
cbslocal.com
KTVT's Jack Fink interviewed Jim Riddlesperger, political science professor, about the Texas House Democrats leaving the state to
go to Washington, D.C. and what the outcome might be. "It's fun times in Texas again," he said. "We will watch and see as the drama unfolds,
but it should be interesting over the next few weeks as the Texas Democrats try to
nationalize the issue."
America's first black female transplant surgeon says organ donation is racially lopsided 
July 10, 2021
Newsweek 
The nation's first black female transplant surgeon says that while donated organs
are allocated equitably along racial lines in America, African-Americans continue
to face unique disadvantages in the life-saving process she has worked in since 1989. Velma Scantlebury, professor of surgery, told Zenger that the black community needs greater awareness
about the need for more organ donors among nonwhite Americans. She points to the Minority
Organ and Tissue Transplant Education Program, founded in 1991.
Dave's Hot Chicken to bring 10 units across the I-35 corridor with new development
deal
July 8, 2021
Franchising.com
Dave's Hot Chicken announced today that it has inked a franchise agreement with Drew
Wilson, Joe Dickerson, Craig Smith and Casey Klajbor to open 10 locations in select markets along the I-35
Corridor in Texas, including Austin, New Braunfels, San Marcos and Waco. Dickerson is an entrepreneur and investor with extensive operational experience in
the restaurant space. He is an adjunct professor in the Department of Entrepreneurship
in the Neeley School of Business.
Retired Alcon executive writing history of Fort Worth business 'hidden gem' 
July 5, 2021 
Fort Worth Report
Commenting on an upcoming book about Alcon, LeAnna Schooley, executive director of the Center for Texas Studies, said Fort Worth is well known
for the cattle and aircraft industries, but neither can claim to have been birthed
here like Alcon can. "I don't know that a lot of even Fort Worth natives realize the
impact that the innovation rooted in Alcon has had on really the whole world," she
said. 
Nation's first black female transplant surgeon advocates for better care for African
Americans
July 5, 2021
ONYX Magazine 
Velma Scantlebury, professor of surgery, who became the nation's first black female transplant surgeon
in 1989, believes there are more issues to overcome even after 30 years of achieving
equity in organ allocation. In a field dominated by white men and white surgeons,
Scantlebury has had a tough time making her way in the realm of specialized surgery.
"My parents taught us that education is important and that we can be anything we want
to be. I did not grow up seeing obstacles. I saw possibilities," she said.
A faulty court precedent on selective service leaves the last legal sex discrimination
in place
July 4, 2021
History News Network
Kara Dixon Vuic, the LCpl. Benjamin W. Schmidt Professor of War, Conflict and Society in Twentieth-Century
America penned a column on a recent Supreme Court matter. "This June, by refusing
to hear the case National Coalition for Men v. Selective Service System, the Supreme
Court allowed the last vestige of legal sex discrimination in American jurisprudence
to stand," she wrote.
ALUMNI
Plano dojo sends two athletes to Tokyo Olympics in debut of karate 
July 7, 2021 
KXAS-TV
The debut appearance of karate in the Olympics will be extra special for North Texas.
The only two athletes representing Team USA in Kumite (fighting) are from a Plano
dojo. The Academy of Classical Karate has announced that Tom Scott '12 and Brian Irr will both compete for Team USA.
TCU alum hopes to sprint his way to Olympic gold 
July 7, 2021 
KXAS-TV
Ronnie Baker '16 knows what it takes to win. The former TCU standout was a 12-time All-American with
many other accolades after graduating from TCU. Now, he's looking for his next achievement: An
Olympic gold medal in the men's 100 meters at the Tokyo Olympics. "God made it happen,"
Baker said.
When You Wish Upon a Meal 
July 2, 2021 
Texas Monthly
Once upon a time, Katie-Rose Watson '11 dreamed she would host a year-long series of Disney-themed dinner parties for adults,
one for every month, each based on a different movie. Watson says she loved hosting
humble dinner parties to celebrate the Oscars and other events in college at TCU. The Dallas-based food blogger's fairy-tale ending brought her a level of social media
stardom, and the 2021 version of an influencer's happily ever after: paid partnerships
with Facebook and Disney. 
STUDENTS
North Texas researchers develop 'What About Mom' app to help new mothers
July 12, 2021
NBCDFW
Researchers in North Texas say they hope a recently developed app will help save the
lives of teen moms. The app was developed in response to the high number of women
who died during or right after childbirth and those suffering with postpartum depression.
A UNT Health Science Center doctor worked with a team of TCU Nursing students developed 'What About Mom?' to help evaluate symptoms.
Bryn Carden discusses 5 profitable small business ideas for college students 
July 14, 2021
Influencive
College isn't cheap, and it can be challenging to balance a full-time job with a demanding
school schedule. For future entrepreneurs looking to enhance their skillsets, college
is the perfect time to find ways to make money without working as a full-time employee
for someone. Bryn Carden, an experienced entrepreneur studying at Neeley School of Business, founded Styles
for Smiles and co-founded BF Hats.
ATHLETICS
Gary Patterson explains how former QB Kenny Hill has quickly ascended TCU's coaching
ranks
July 14, 2021
The Dallas Morning News
In 2017, former TCU quarterback Kenny Hill '17 was at AT&T Stadium for Big 12 media days. Four years after Hill was here as a player,
TCU head coach Gary Patterson explained why Hill has already risen to being the Horned Frogs quarterbacks coach
and the reason that enabled Patterson to promote the 26-year-old so quickly. "I think
it's probably as good a system as anybody could have in college football right now,"
Patterson said.
Gary Patterson and Leon Bridges are hosting a big party at Hotel Drover next week.
Here's why
July 14, 2021
Fort Worth, Texas Magazine 
A big party is happening next week at Hotel Drover, led by none other than TCU football
coach Gary Patterson and Grammy-winning musician Leon Bridges. The two Fort Worthians are teaming up July
22 for The Big Good Ranch Party — a charity event benefiting The Big Good, Bridges
and Patterson's philanthropic organization aimed at improving the livelihoods of children
and their families across North Texas.
Six TCU players taken in 2021 MLB draft, including 5 pitchers
July 13, 2021
Fort Worth Star-Telegram 
TCU left-hander Russell Smith was the top pick of six Horned Frogs selected in the MLB Draft. Smith was drafted
by the Brewers with the 51st overall pick. He's one of five TCU pitchers drafted.
Six TCU baseball players were selected in the 2021 MLB Draft, including five on the
third and final day of the draft. It's the most Horned Frogs selected in a draft since
a school-record nine were drafted in 2019.
TCU's Jamie Dixon, Mike Miles help U.S. U19 win FIBA gold
July 12, 2021
Fort Worth Star-Telegram 
TCU guard Mike Miles scored 11 points, grabbed seven rebounds and added six assists and four steals in
the U.S. Men's U19 team's 83-81 win over France to claim the FIBA U19 World Cup gold
medal Sunday in Riga, Latvia. TCU men's basketball coach Jamie Dixon coached the team.
TCU is '100%' behind College Football Playoff expansion
July 8, 2021 
Fort Worth Star-Telegram
Count TCU officials among those in support of expanding the College Football Playoff
to 12 teams. A proposal has been submitted this summer and the expectation is for
the expansion to be approved. The earliest season for the expansion would be the 2023
season. "We are 100% behind it," Athletic Director Jeremiah Donati said.
Meet Gary Patterson, the 'voice' of TCU football 
July 6, 2021
Spectrum News
He's a husband. He's a father. He's a football coach. TCU head coach Gary Patterson is known for a lot of things. But a country music artist? Add that to his distinguished
arsenal. Head football coach Gary Patterson can read a sheet of music just as well
as he can read opposing offenses. Since last year, Patterson has released four singles.
TCU athletic director Jeremiah Donati on pros, cons of NIL
July 5, 2021 
Fort Worth Star-Telegram
Athletic Director Jeremiah Donati expressed a few concerns with NIL legislation going forward. Donati is excited that
student-athletes now have the ability to earn endorsement money and profit off their
name, image and likeness. The NCAA made sweeping changes to its model and athletes
have been taking advantage in the days since.