Navratri Festival is one of the most auspicious and grand festivals dedicated to Goddess Durga and her many forms. It is celebrated all over India in different ways, but with a lot of devotion, festivity and fanfare. This year, it begins on September 26 and end on October, 5 with Dussehra. I have specially created this post to share some of the most popular and some unique South Indian Navratri Recipes. This will help you to decide on a delicious menu during this festival.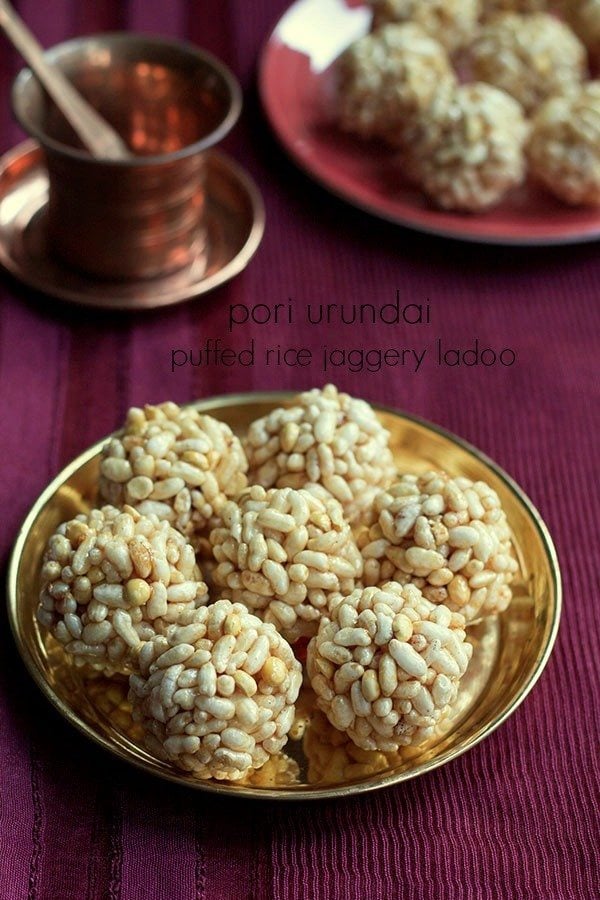 Navratri made of 2 words, 'nava' and 'ratri' literally translates to 'nine nights.' People also observe fasts or vrats in order to devote themselves completely in the bhakti or worship of Durga Maa. Another unique feature about this festival is that there are 4 seasonal variations of it. The most important one is the Sharada Navratri that falls after monsoon season.
Significance of Navratri Festival
Navratri Festival is the celebration of the victory of good over evil. This is signified by Goddess Durga fighting and winning over the demon Mahishasura. Thus, these nights and days are dedicated in the worship of Durga Maa and Navadurga – her 9 avatars. While it is celebrated in North India majorly by fasting, other rituals are observed in other regions of India.
In West Bengal, Assam and Odisha, it is known as Durga Puja and may not necessarily involve fasting. The celebrations also begin from the 6th day, known as 'shoshti.' It ends on the 10th day with Bijoya Dashami, also known as Vijayadashami or Dussehra.
Navratri Festival in Uttar Pradesh, Bihar and Punjab involve singing of religious songs (jagrans) in the nights. It ends with a unique ceremony called 'kanjika.' Here, 9 young girls (representing Maa Durga's 9 forms) and a boy are worshipped and honored with money, gifts, food like chana, puri and halwa. In Himachal Pradesh, the festival actually begins on the 10th day (when it ends for other states) as Kullu Dussehra.
In West India, it is a bright and colorful affair in Gujarat, with people worshipping Ambe Maa and observing fast for 9 days. On the other hand, Maharashtrians consider Navratri as 'new beginnings.' Thus, many business and property deals are made during this time.
However, South Indians don't really observe fasting on this festival. But do prepare food without onion and garlic and worship deities with various dishes ranging from sundals to sweets as prasadam. I have compiled a list of some really delicious and festive South Indian Navratri Recipes in this post.
Food in Navratri Festival
Just like the variety in rituals related to Navratri Festival that chance from region to region in India, same is the case with foods too. For some, this festival essentially means fasting and keeping vrats. So, special kind of food are prepared while doing so. For others, it is a time to give in to revelries and enjoyment, so another kind of foods are made to cater to that.
For instance, North Indians believe in rigorous fasting during these 9 days and do not consume rice, legumes, onion, garlic, etc. Whereas, Bengalis may also prefer some non-vegetarian dishes that becomes a part of the food rituals during this festival. This also depends on which form of Goddess Durga you are worshipping.
If you follow the North Indian Navratri with fasting, then refer to this collection of Navratri Fasting Recipes and also this handy guide about Navratri Vrat Rules that explains the important facts and details about Navratri pooja vidhis.
On the other hand, South Indians need not necessarily observe vrats or fasts but still cook food without onion and garlic during Navratri Festival. Also, Navratri for a South India essentially means worshipping Goddesses Durga, as well as Lakshmi and Saraswati too. So, this post is for the South Indian way of Navratri Festival where its more about celebrations, unlike fasting for North Indians.
South Indian Navratri Recipes
As I have been mentioning earlier here, one golden rule to keep in mind for this is to prepare food without any onion or garlic in it. Even if any of the mentioned preparations in this South Indian Navratri Recipes list have these, kindly omit or skip adding them. Also, most of these recipes can be easily made and really don't require hours and hours in the kitchen.
This South Indian Navratri Recipes collection also ranges from dishes that are salted, savory and sweet too. It begins with the popular sundals, which is basically dry legume or lentil-based dish, which is spiced and tempered with typical South Indian ingredients and coconut. The method of making all these sundals are more or less similar.
These sundals are followed with a list of scrumptious snack recipes, tasty rice recipes and the most loved sweet recipes. The dessert section consists of ladoo, halwa, payasam and other sweets.
Sundal Recipes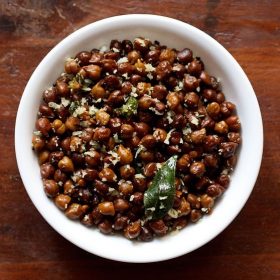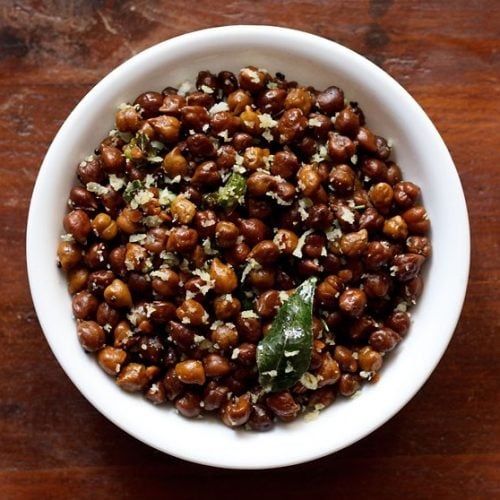 Moderate
8 hrs 35 mins
Black Channa Sundal also known as Kondakadalai Sundal is a South Indian recipe of a sautéed dry dish made with black chickpeas, herbs, spices and coconut.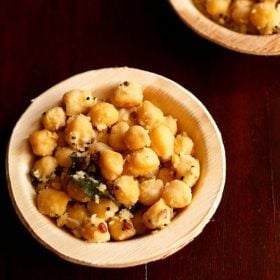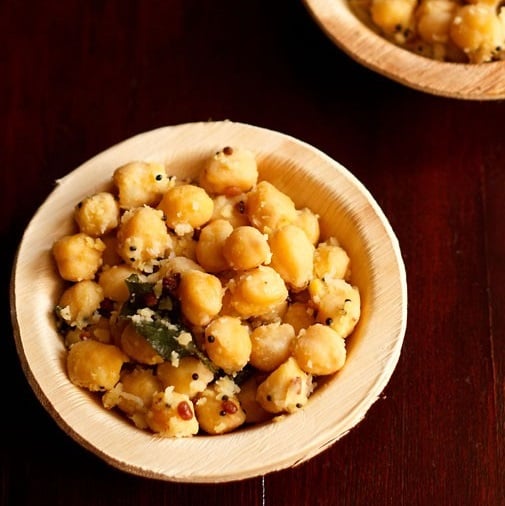 Moderate
35 mins
Sundal is a stir-fried dish made with different types of lentils, legumes even grains from the cuisine of Tamil Nadu. This Channa Sundal has white chickpeas, spices and a good dose of freshly grated coconut. This dish is vegan and quite healthy too.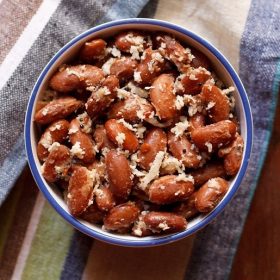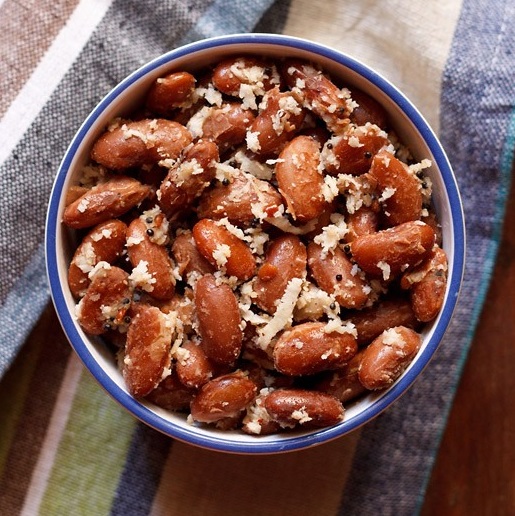 Moderate
8 hrs 35 mins
Rajma sundal is a South Indian recipe of a no onion no garlic sautéed kidney beans with spices and coconut.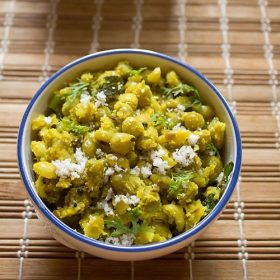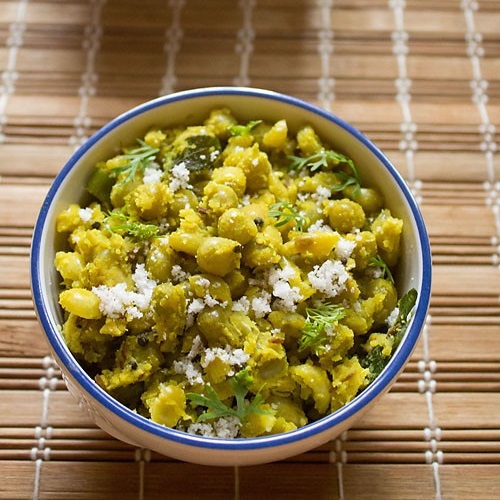 Easy
8 hrs 30 mins
Pattani Sundal is a South Indian preparation made with dried green peas that are cooked first and tempered with spices, herbs and later finished with fresh coconut.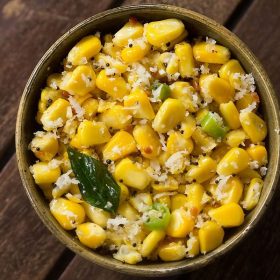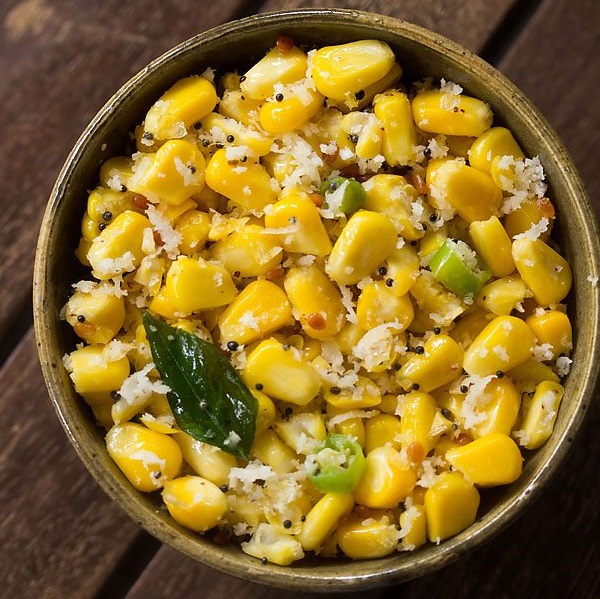 20 mins
Easy recipe of South Indian sweet corn sundal. sundals are South Indian based dishes made with a variety of legumes and is prepared during Ganesh Chaturthi or Navratri festival.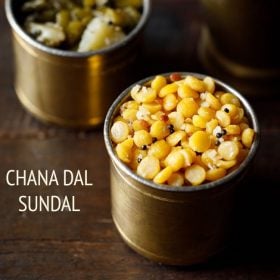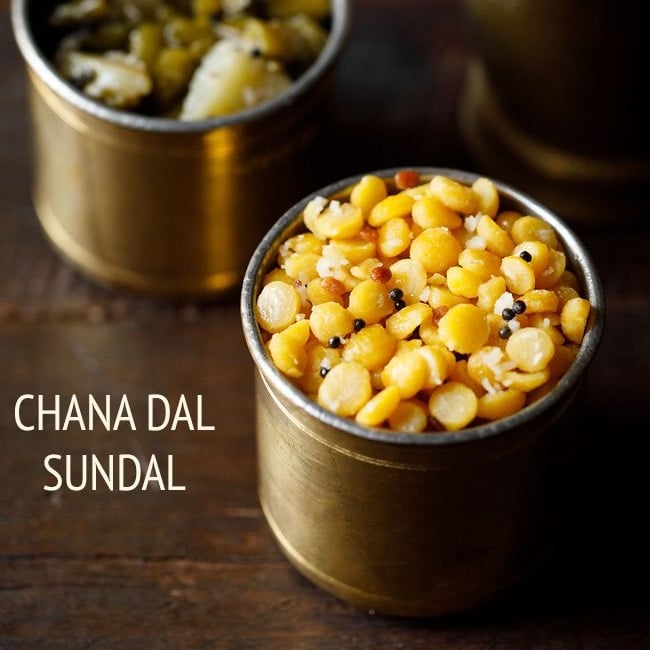 1 hr 35 mins
Chana dal sundal is tempered & sautéed dry dish made with cooked chana dal, few spices and fresh coconut. Chana dal sundal is also called as kadalai paruppu sundal where 'kadalai paruppu' is the tamil word for chana dal.
Snacks Recipes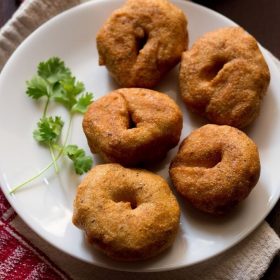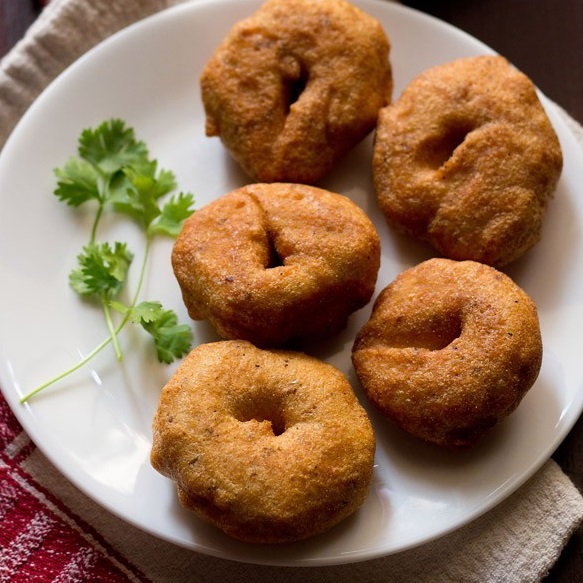 9 hrs 30 mins
These Uddina Vada are crisp and tasty fried black grams donuts shaped fritters. A popular South Indian snack.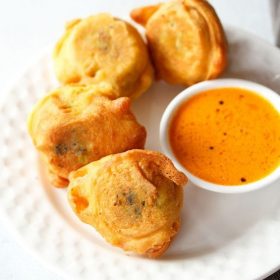 1 hr
Vegetable bonda recipe is deep fried snack of stuffed mix veggies coated with gram flour batter.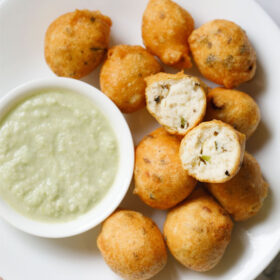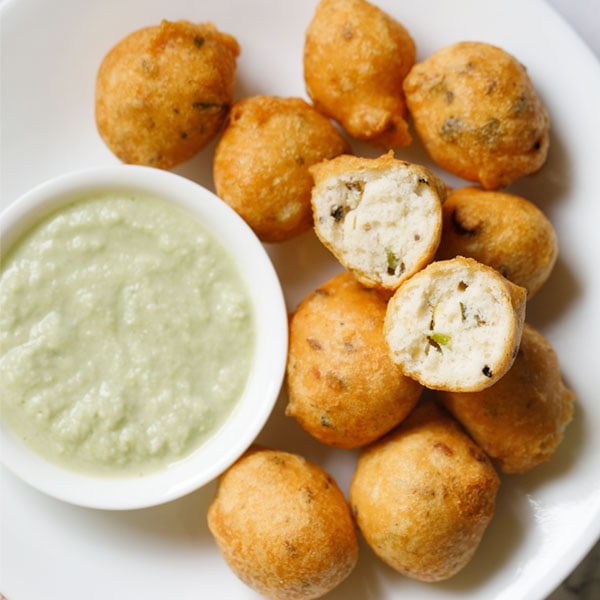 Moderate
8 hrs 30 mins
Mysore bonda also known as Mysore Bajji is a popular South Indian snack made with lentils, fresh herbs and vibrant spices. The ingredients are combined to create a thick batter, and are then deep fried to make crisp, soft and fluffy fritters.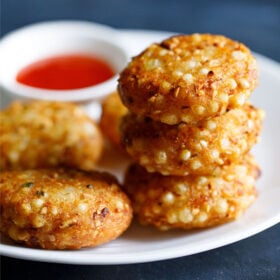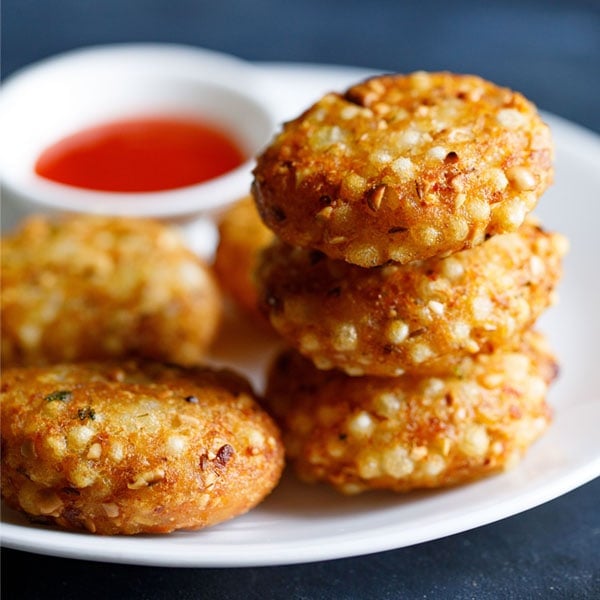 Moderate
5 hrs 30 mins
Sabudana Vada is a popular savory deep fried snack made during Hindu fasting days, featuring tapioca pearls (sago), potatoes, peanuts and herbs. They are naturally gluten-free and vegan. This fool proof sabudana vada recipe gives you a super delicious crispy vada with a soft and light interior.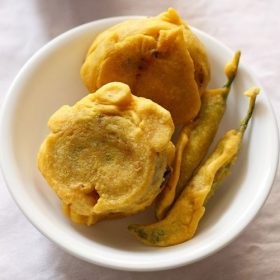 1 hr
This potato bonda is a fried tea time snack from the South Indian cuisine. Aloo bonda is made with gram flour & rice flour batter & stuffed with spiced mashed potato filling.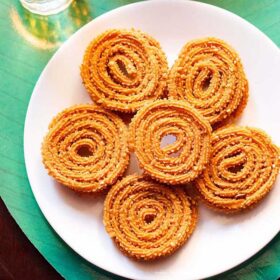 Moderate
1 hr 15 mins
Chakli is a deep-fried snack made from rice flour, gram flour, wheat flour or a mixture of lentil flours. Make this crispy and crunchy snack for Diwali festival.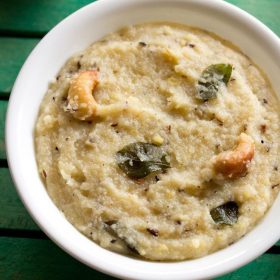 30 mins
Rava Pongal is a healthy and delicious breakfast recipe of Pongal made with rava and moong dal.
Rice Recipes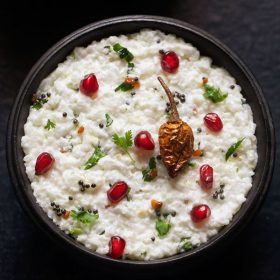 20 mins
Curd rice or thayir sadam is a popular South Indian rice variety that is served with a South Indian meal or South Indian thali. This curd rice recipe is my go to method and one I often make as it is a favorite with my family. Vegan yogurt made from cashew milk, almond milk or coconut milk can be used instead of dairy curd.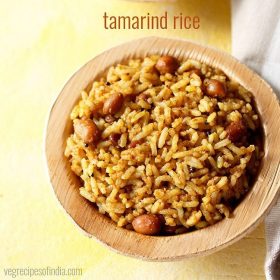 1 hr
Puliyodharai is a popular South Indian recipe of sour and spiced rice.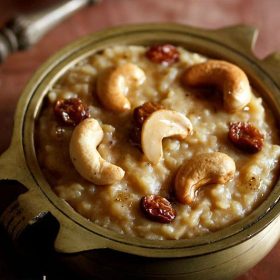 Easy
20 mins
Sweet Pongal or sakkarai pongal is a creamy, sweet festive dish made with rice, mung lentils, jaggery and flavored with cardamoms, dry fruits and ghee.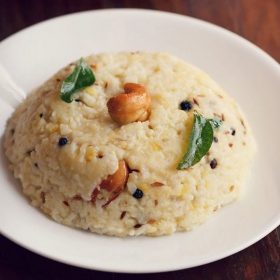 Easy
25 mins
Ven Pongal also known as Khara Pongal is a popular South Indian porridge that is made with rice, yellow moong lentils and laced with the wonderful flavors of spices, herbs and ghee.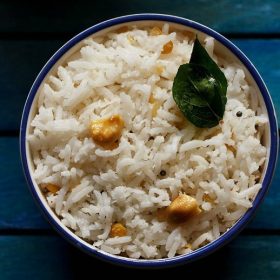 Moderate
40 mins
Coconut rice is a light, tasty, savory South Indian rice variant made with fresh grated coconut, lentils, herbs and spices. This nutty and mild rice based dish is also known as Thengai Sadam in Tamil language. The recipe is vegan and for a gluten-free version, easily skip adding asafetida.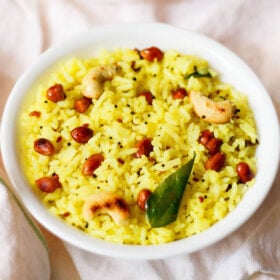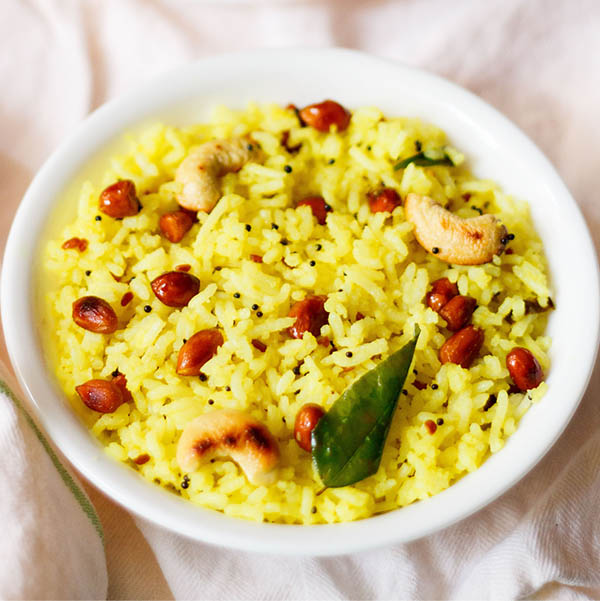 Easy
25 mins
Lemon Rice also known as chitranna or nimmakaya pulihora is a crunchy, flavorful and tangy rice dish that is easy to make and tastes so good.
Ladoo Recipes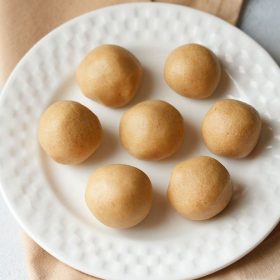 Moderate
17 mins
Sunnundalu is a special and unique Andhra festive sweet made with urad dal (black gram), ghee and sugar or jaggery. These protein rich treats are tasty and keeps well for a few days at room temperature.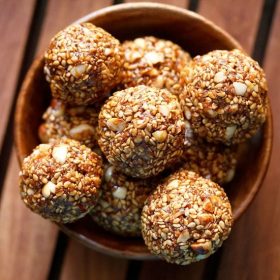 Difficult
20 mins
Til ke laddu is a healthy, delicious, and nutty ladoo prepared with sesame seeds, jaggery, peanuts, and desiccated coconut. A vegan recipe and also a Makar Sankranti festival special sweet.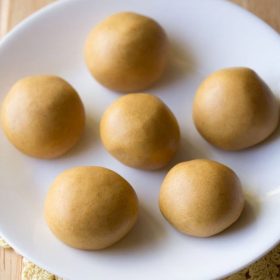 Moderate
17 mins
Moong Dal Laddu are nutty sweet balls made with moong lentils, ghee, sugar and flavored with green cardamoms. These Moong Dal Ladoo are quite addictive too.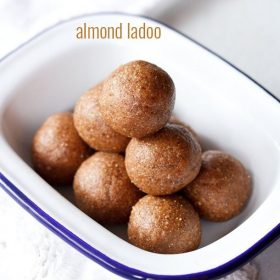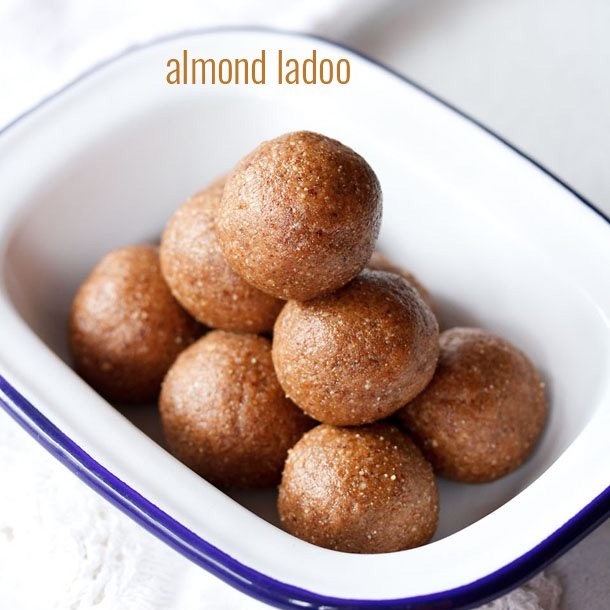 10 mins
Badam laddu are quick, easy and tasty ladoos made with almonds, jaggery and raisins.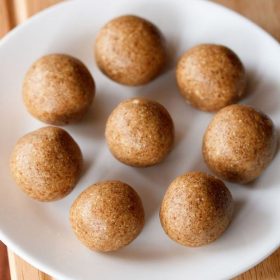 Moderate
15 mins
Peanut Laddu is an easy 2 ingredient recipe of delicious and protein rich balls made with roasted peanuts and jaggery.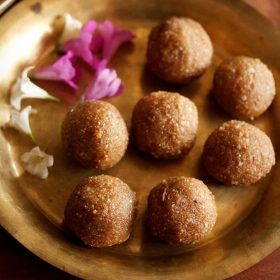 15 mins
Aval laddu are delicious ladoo made with thick poha (flattened rice or parched rice), jaggery and ghee.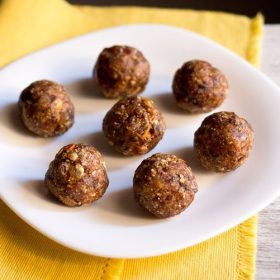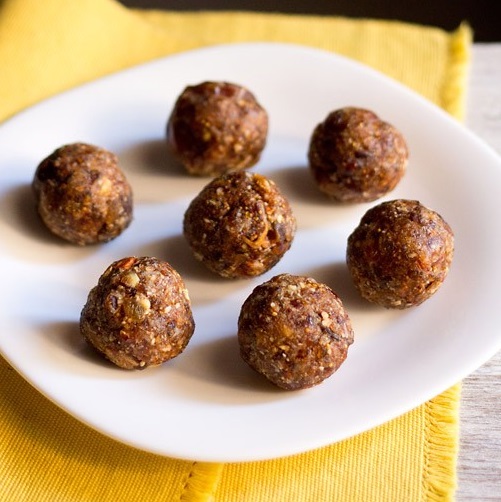 Easy
20 mins
Easy Dry fruits laddu recipe without any added sugar or fats like ghee or oil. Packed with nutrients, good fats and fibre, these energy balls are made with dates, figs and various nuts. Dry fruit laddu recipe gets done quickly and comes together under 20 minutes.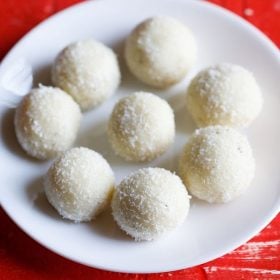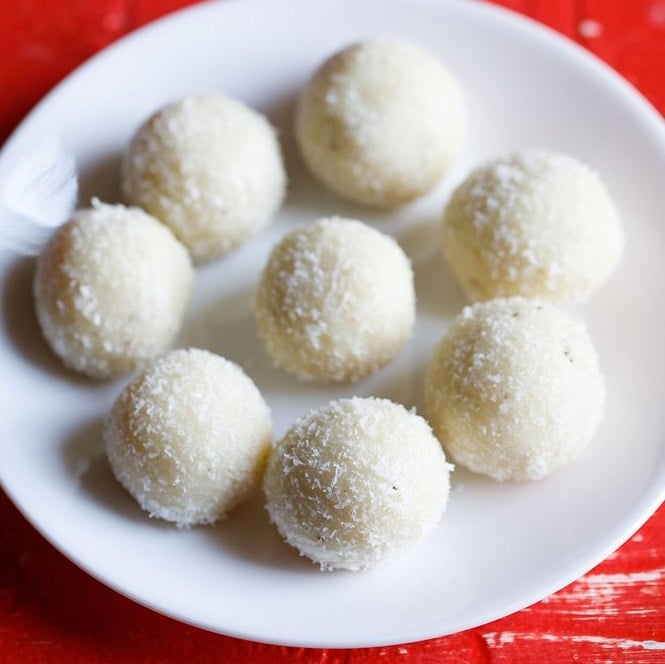 Moderate
15 mins
Make coconut ladoo with three recipes. The first one is a quick 3 ingredient recipe made with fresh coconut, milkmaid and cardamom powder. The second recipe has 2 ingredients – desiccated coconut and condensed milk. The third recipe is made with desiccated coconut and sugar.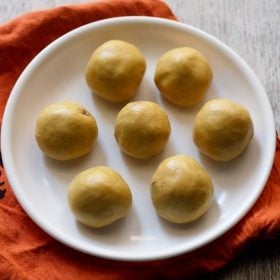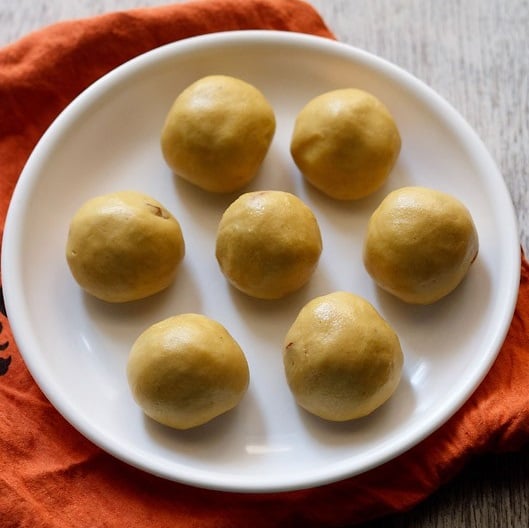 Easy
12 mins
Maladu or maa laddu (pottukadalai ladoo) is quick South Indian recipe of ladoo made from roasted gram or roasted chana dal. Maladu is made with just 3 main ingredients – roasted gram flour, ghee and sugar.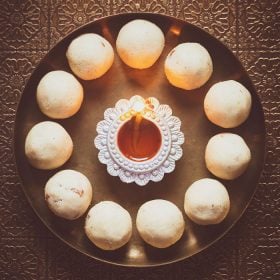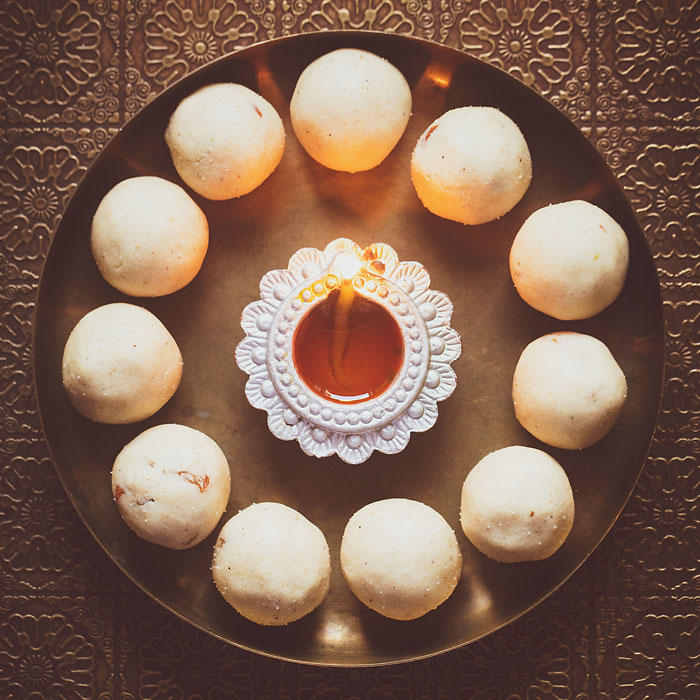 Moderate
30 mins
An easy method to make rava laddu for Diwali or any festival. This rava ladoo also known as suji ke laddu is made with rava (sooji or semolina), coconut, powdered sugar, dry fruits and ghee.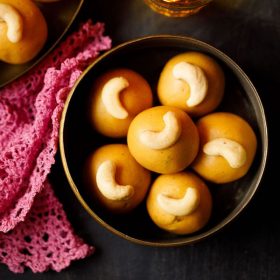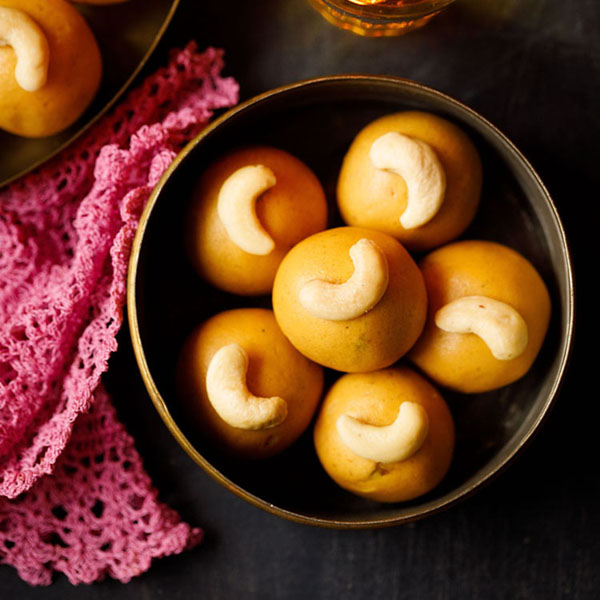 Moderate
30 mins
Besan Ladoo or Besan ke Laddu is a popular Indian sweet made during festivals. These are round sweet balls made with gram flour a.k.a besan, powdered sugar and clarified butter (ghee).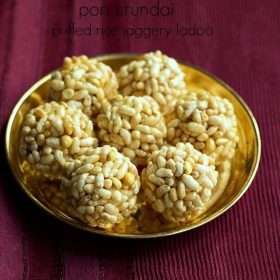 20 mins
Pori urundai is a crunchy, crisp, light, delicious, easy ladoo recipe which gets ready in minutes made with puffed rice. Also known as murmura laddu and puri unde.
Halwa, Payasam & Other Sweets Recipes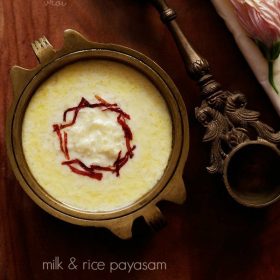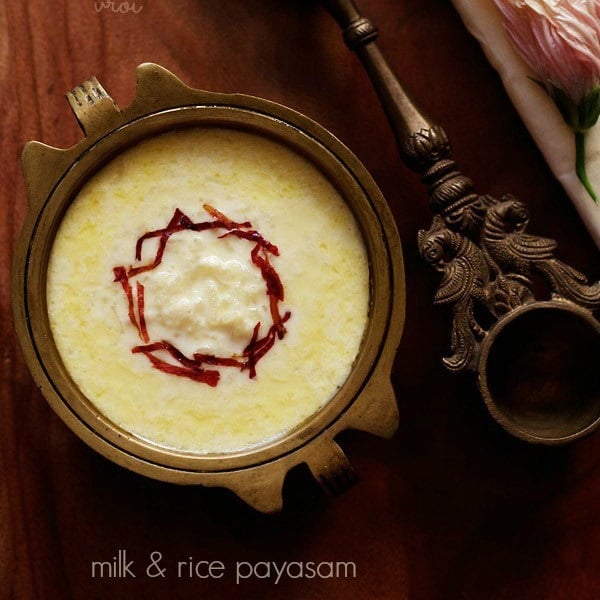 Moderate
1 hr
Paal Payasam is a simple South Indian variant of a slow cooked rice pudding made with only 4 ingredients. This recipe is of a typical Tamil style Rice Payasam that is creamy and delicious.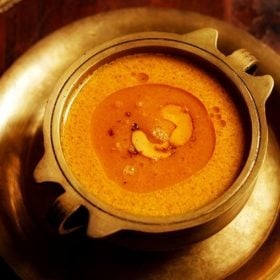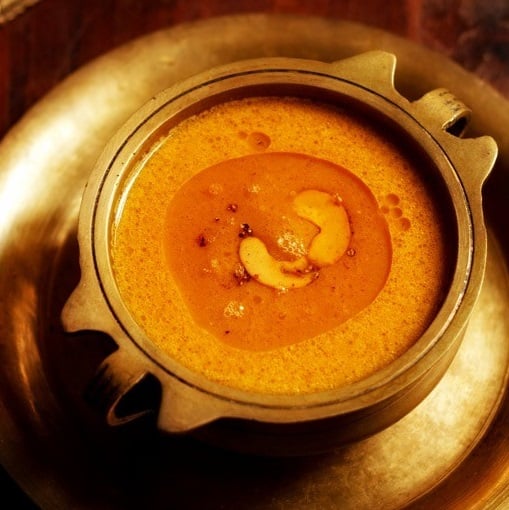 Moderate
40 mins
Carrot payasam is a creamy and smooth payasam made with carrots, jaggery and coconut milk.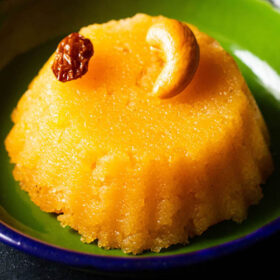 Moderate
25 mins
Rava kesari is a delicious melt in the mouth sweet made with rava or suji (semolina), ghee, dry fruits and saffron. It is a popular South Indian sweet and can be easily made in less time.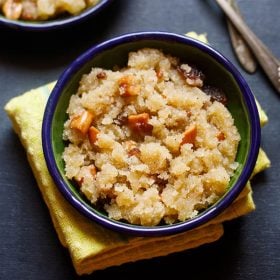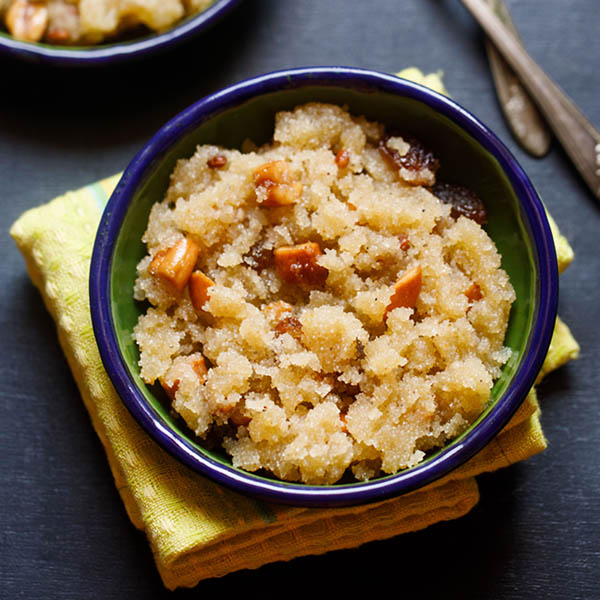 Easy
15 mins
Suji ka halwa or Sheera is a classic Indian semolina pudding made with sugar, ghee and dry fruits. The recipe I have shared is a family heirloom recipe. We have been making this suji halwa recipe for decades during family get togethers, special occasions & festivals. The sooji halwa recipe can be easily halved, doubled or tripled.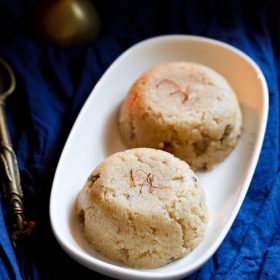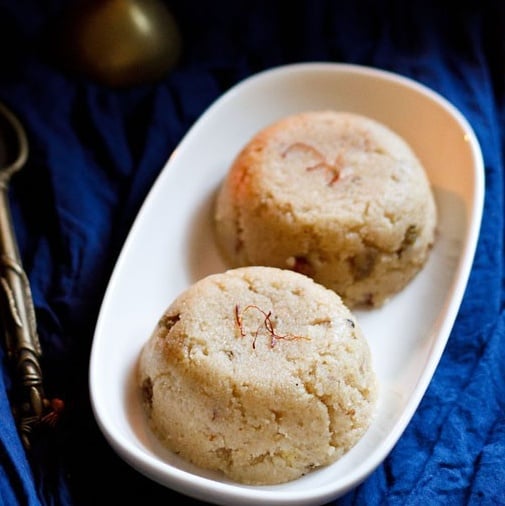 Moderate
20 mins
Banana Halwa or Banana Sheera is delish sweet pudding made with semolina or cream of wheat, bananas, sugar, dry fruits and is often made as a prasad for Ganesh Puja, Satyanarayan Puja, Devi Puja or for any auspicious occasion.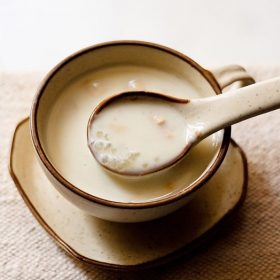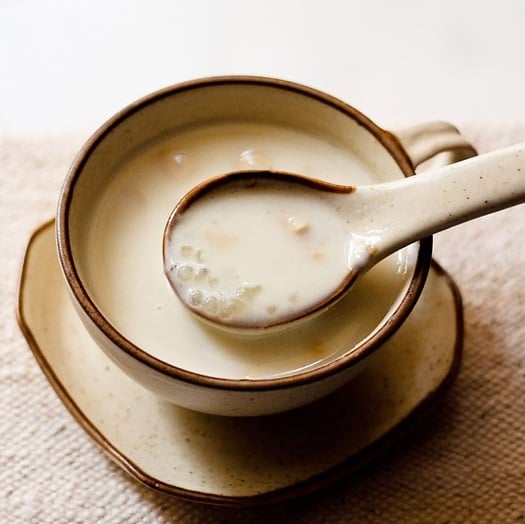 Easy
35 mins
Sabudana kheer is a sweet pudding made with tapioca pearls or sabudana, milk and sugar.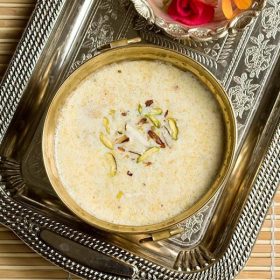 Moderate
40 mins
Kaddu ki kheer or pumpkin kheer is a flavorsome, easy to prepare, traditional sweet dish with pumpkin.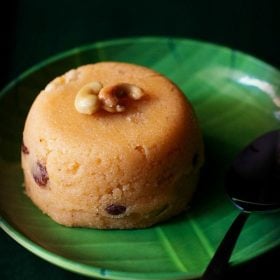 30 mins
This Milk Rava Kesari is an easy to prepare delicious kesari variety made with milk, semolina (rava), sugar and dry fruits.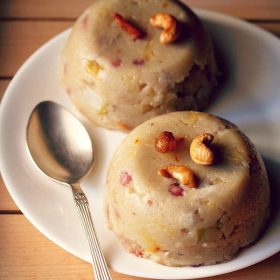 25 mins
Fruit kesari is a rich South Indian sweet made with cream of wheat, mixed fruits and dry fruits.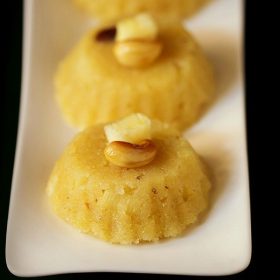 15 mins
Pineapple kesari or pineapple halwa is a delicious South Indian sweet made with sooji (cream of wheat) and pineapple.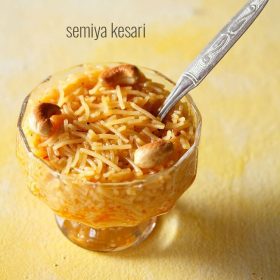 25 mins
Semiya kesari is a delicious sweet made with semiya, dry fruits and ghee.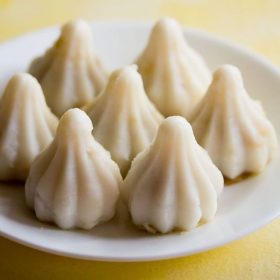 1 hr 20 mins
Sweet kozhukattai is a South Indian recipe variation of modak made with a stuffing of chana dal, coconut and jaggery.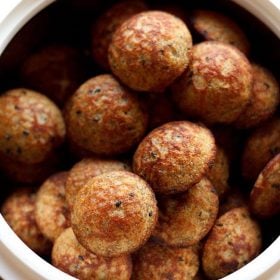 50 mins
Banana appam are sweet appam or paniyaram made with ripe bananas, rice flour and jaggery.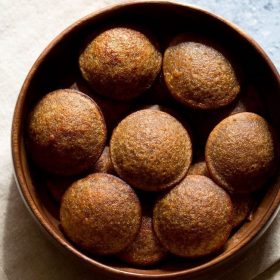 35 mins
These are instant appams made with whole wheat flour, jaggery and bananas.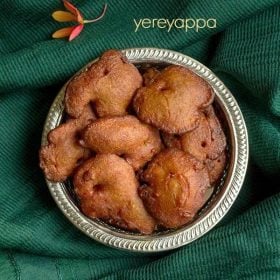 4 hrs 25 mins
Yereyappa Recipe
Yereyappa is a Karnataka special traditional navrathri sweet dish
This South Indian Navratri Recipes post from the archives first published in October 2016 has been updated and republished on 27 September 2022.