Ever have those cravings for something warm, salty, and buttery, but aren't quite sure what to make? Joanna Gaines's fatayer can fix that! The recipe, which Gaines made on the first episode of her new cooking show, Magnolia Table, is a classic Lebanese meat pie, and it'll satisfy all of your tastebuds.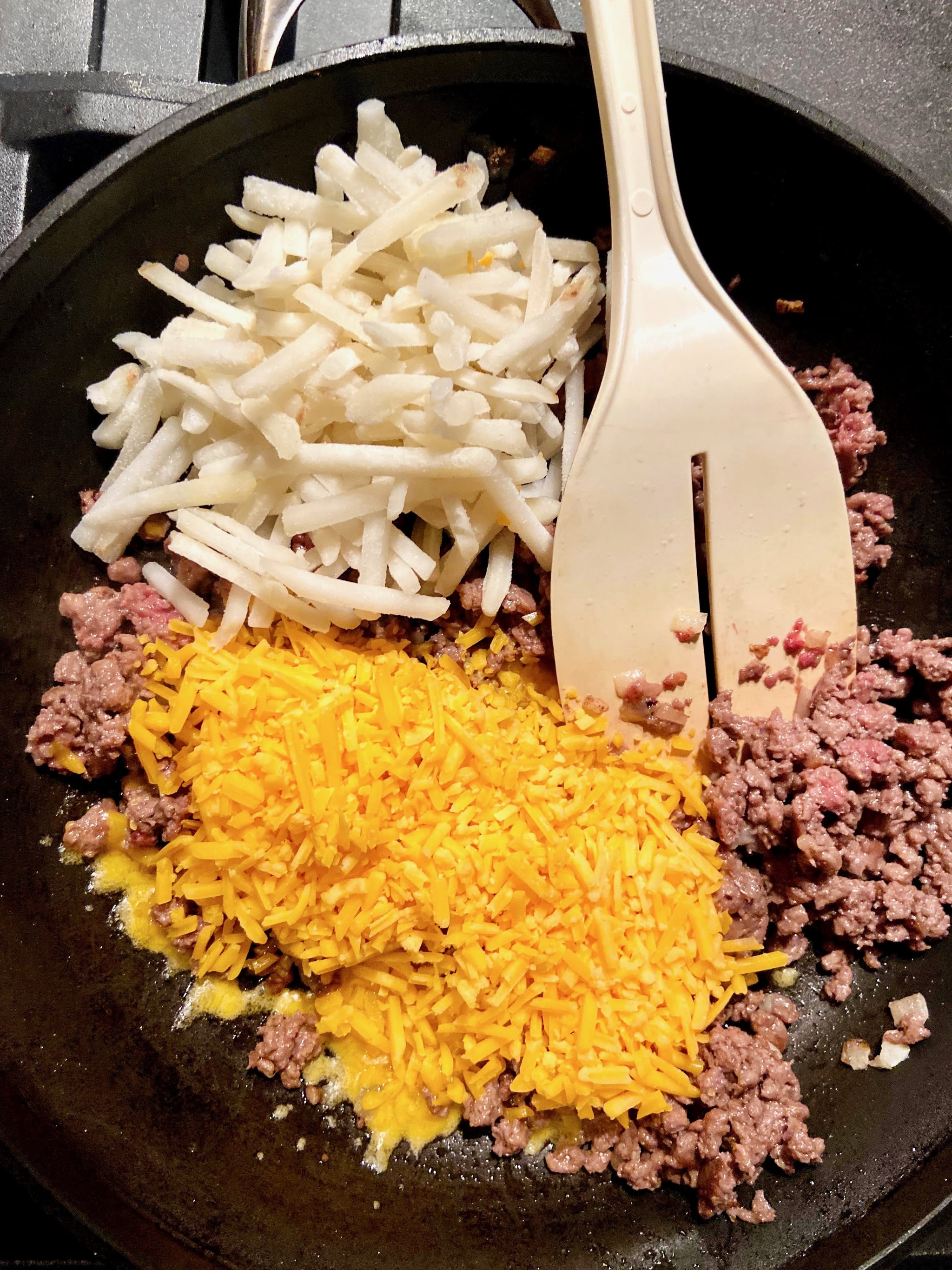 While I was initially a little worried that these savory pastries might be too far out of my cooking skills comfort zone, I was surprised just how simple they were to put together. The filling is as easy as sautéing a few ingredients in a pan, and the outer pastry is made from Pillsbury Grands! Southern Homestyle Original Biscuits. And since the biscuits are already portioned, all you have to do is roll them, fill them, and close them. After brushing a little melted butter over the top, they're ready to go in the oven.
The recipe makes 24 fatayer, which correlates roughly to 8-10 servings. Don't worry if you can't eat them all in one night though, as they reheat nicely for a treat throughout the week. And if you're looking to make a full meal out of it, I recommend Gaines's Lebanese Salad as the perfect side dish.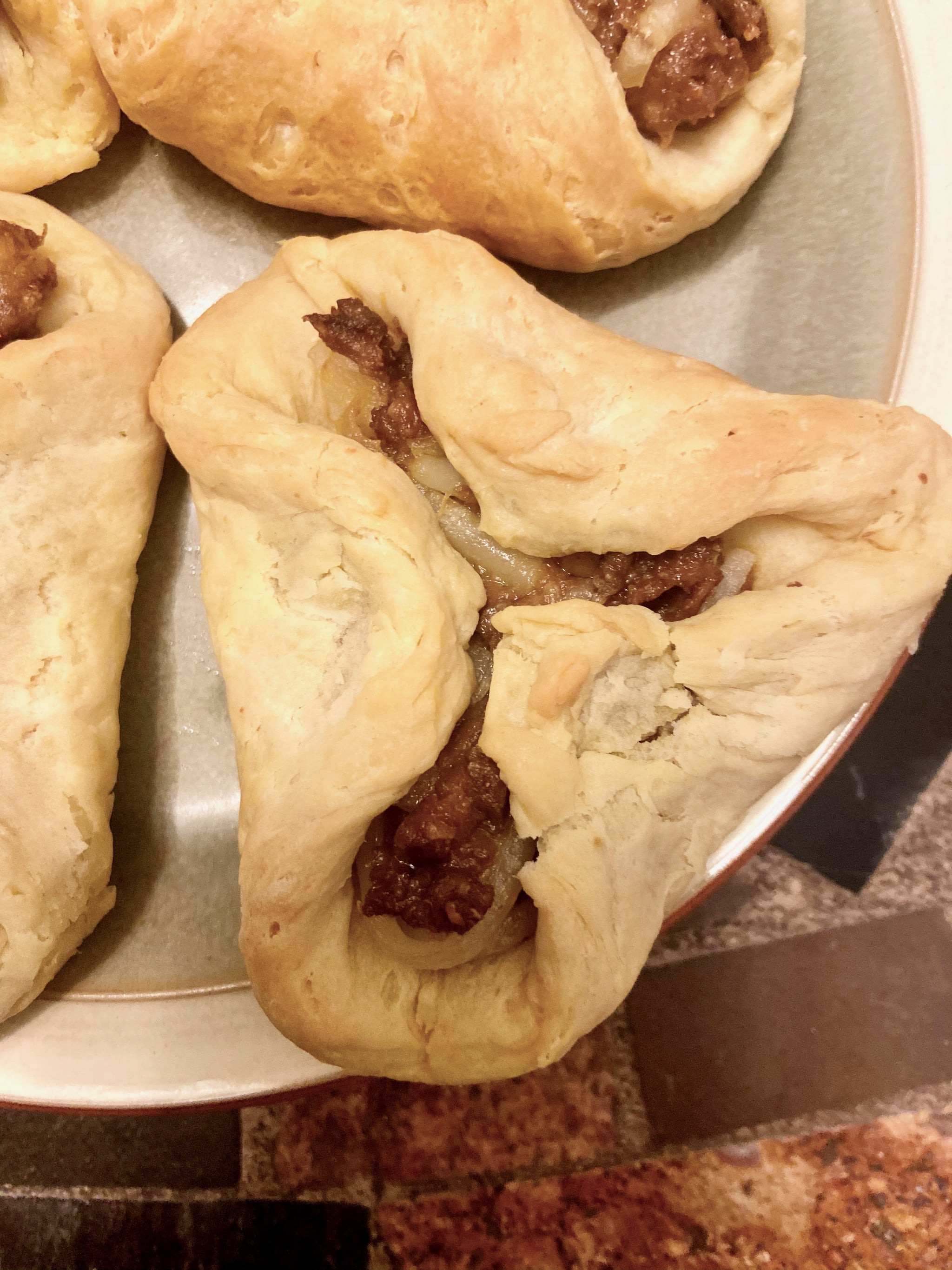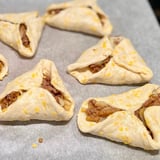 Ingredients
1 tablespoon extra virgin olive oil
1/4 cup minced white onion
2 pounds ground beef (80% lean)
2 cups thawed frozen shredded hash browns
2 cups bagged grated Cheddar cheese (about 8 ounces)
1 teaspoon Kosher salt
1 teaspoon garlic salt
1 teaspoon freshly ground black pepper, plus more as needed
3 16.3-ounce cans refrigerated Pillsbury Grands! Southern Homestyle Original Biscuits
All-purpose flour, for the work surface
4 tablespoons (1/2 stick) salted butter, melted
Directions
Position racks in the top third and middle of the oven and preheat the oven to 350 degrees. Line two baking sheets with parchment paper.
In a large sauté pan, heat the oil over medium-high heat. Add the onion and cook, stirring often, until softened, about 3 minutes. Add the beef and cook, stirring often to break up the meat, until no longer pink, about 6 minutes. Pour out any standing liquid. Stir in the hash browns, cheddar cheese, 2 teaspoons salt, and the pepper. Stir until well combined. Taste and adjust the seasoning. Set aside.
Open the cans of biscuits and separate the dough into individual biscuits (24 total). Dust a work surface with some flour. Roll out each biscuit to a roughly 5 1/2-inch round.
Working with one round at a time, place about 1/4 cup meat filling in the middle, leaving a roughly 1/2-inch border all around. Bring the sides of the dough up in three parts and pinch together the three seams from the base up to the top center so that the package forms a triangle. It's fine if the meat peeks through at the top.
Continue to fill and pinch all the biscuit rounds, arranging the pies on the prepared baking sheets as you form them and placing them close together so that they all fit.
Brush the tops with the melted butter and sprinkle a little kosher salt on the top.
Bake 40 minutes, remove from the oven, and enjoy!
Information
Category

Main Dishes

Cuisine

Mediterranean/Middle Eastern

Yield

8-10 Servings

Prep Time

30 minutes

Cook Time

40 minutes

Total Time

1 hour, 9 minutes, 59 seconds
Image Source: POPSUGAR Photography / Katherine McLaughlin