This homemade chili seasoning mix is the best blend of spices that will give your chili the heat and signature flavor. You only need 5 peppers and herbs to make it and always have it on hand!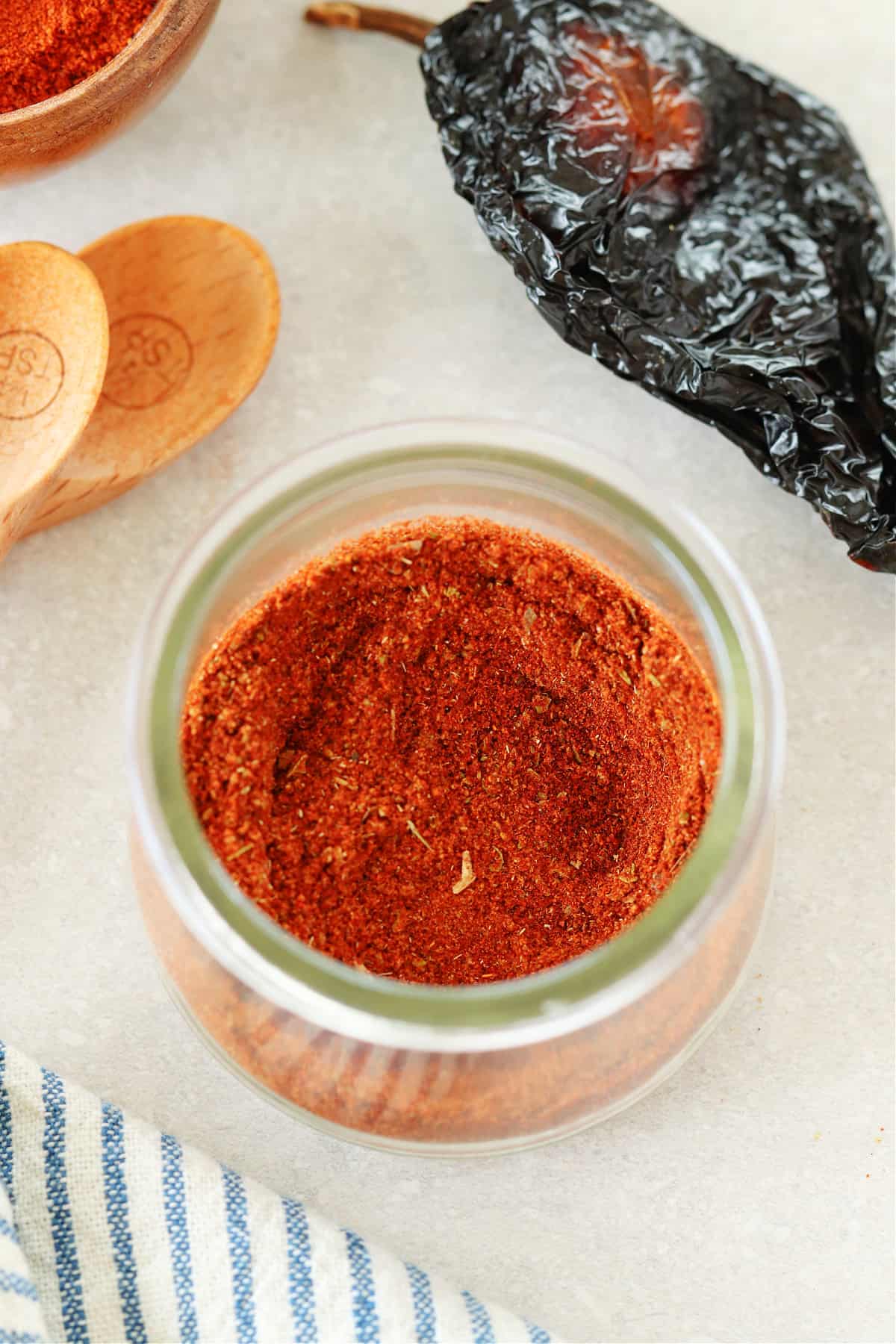 Jump to:
Why You'll Love This Recipe
Chili season is almost here and there is nothing better than a big pot of it on a football Sunday! Seems like everyone has their own way of making chili but I think it all comes down to the seasoning. If you are looking to substitute the store-bought seasoning packets with a homemade mix, this recipe is for you!
This is the best chili seasoning because it's made with ground peppers (three kinds), oregano, cumin, and coriander, the last two being powders of seeds from parsley and cilantro. It will give your next chili the signature spicy heat and flavor. No need for garlic or onion powder. Use them fresh to build the base along with this seasoning, just before adding the meat.
Ingredients: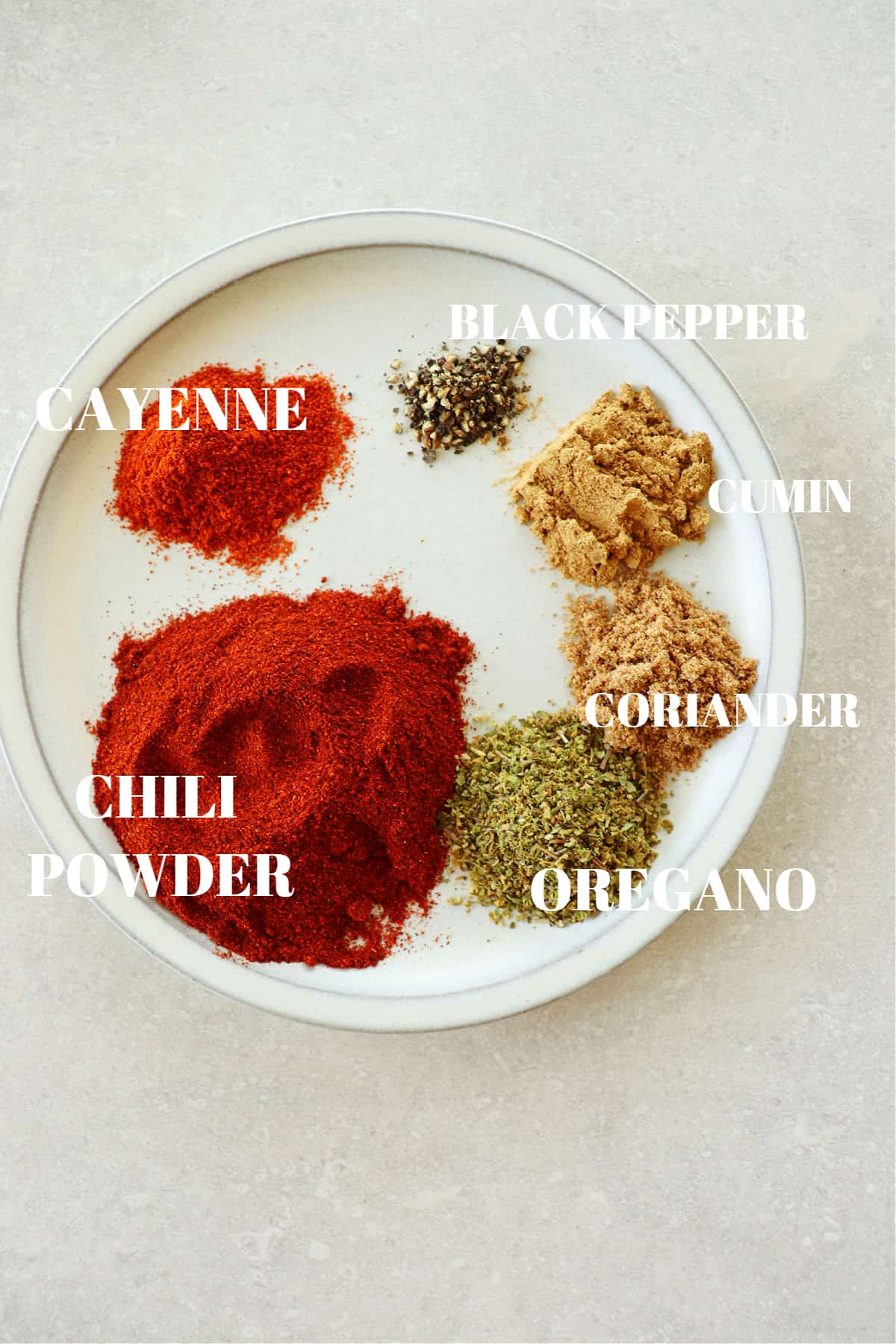 chili powder: made from ground chili peppers, sometimes with the addition of cumin, garlic powder, etc., depending on the brand;
cayenne pepper: powder made from dried and ground chili peppers;
black pepper: made from crushed black or white peppercorns;
cumin: made from seeds of a plant cuminum, related to parsley; very aromatic and distinct in Mexican and Spanish cuisine; use seeds or powder;
coriander: made from seeds of cilantro plant; adds slight lemony flavor to the dish; use seeds or powder;
dried oregano: if you can, use Mexican oregano for this mix.
How to make homemade chili seasoning?
If you are using coriander and cumin seeds to make it, toast them in a dry pan first, cool, and then crush them in a mortar and pestle or in a spice grinder.
Combine all spices and herbs in a small bowl and mix together well.
Place in a spice container with a lid.
Use right away or store for up to several weeks.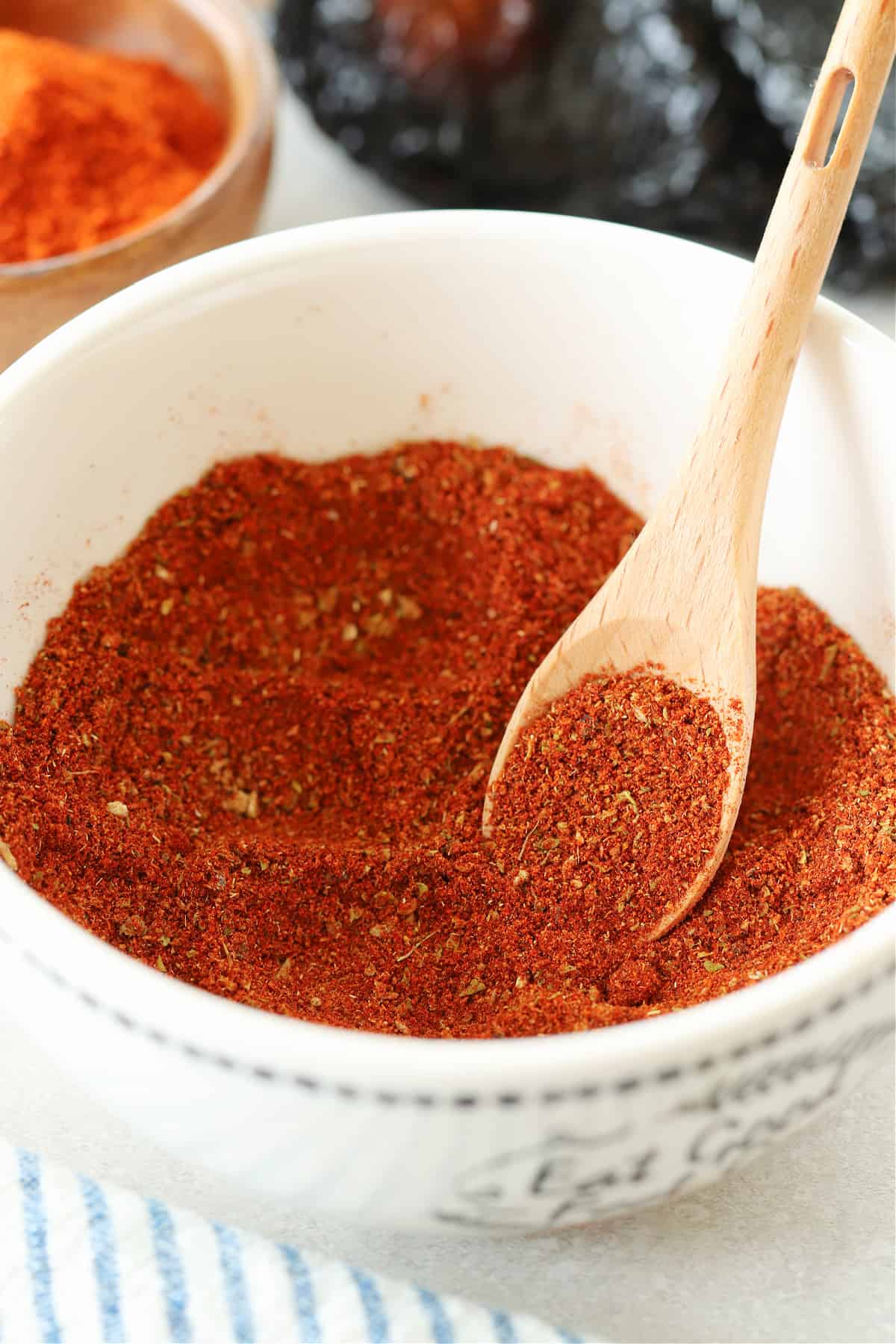 How to use it?
This chili seasoning is made with pepper powders and dried herbs. I like to add it to sauteed onion, bell pepper, and garlic to toast it. It activates the dries spices and ensures the full flavor of the mix in the dish. You do not want to just sprinkle it over the chili at the end of cooking or even over the finished dish.
Use 1 tablespoon of chili seasoning per 1 lb of ground meat. A typical seasoning packet contains 2 tablespoons of seasoning but we need to keep in mind the store-bought seasonings contain cornstarch and anti-caking agents. This homemade seasoning mix is pure pepper spices and herbs.
What's the difference between taco seasoning and chili seasoning?
Opinions can differ but if you ask me, taco seasoning is for adding to meat only (beef or chicken), therefor it's a blend of chili powder, cumin, garlic and onion powders, oregano, paprika, and cornstarch to thicken the mixture. Chili is made by sauteing fresh vegetables (peppers, onions, garlic), then meat. That's why I prefer this mix of ground peppers, cumin, coriander, and oregano. Store-bought packets have chili powder, paprika, and salt along with anti-caking agents.
Best tips!
If you cook at home a lot, you probably use a lot of spices. I like to buy large, bulk containers instead of small spice jars. It's cheaper! You can find them in wholesale stores or on Amazon.
Increase the seasoning if you like your chili very spicy. Adjust the flavor to your liking, that's the beauty of cooking at home!
Store the seasoning in a dry place, along with your spices. Make sure to label it!
Recipe FAQs:
How to store it?
Just like the spices, seasoning blends should be stored in containers with lids, in a dry, dark place like a spice drawer or cabinet.
How long does it last?
Homemade chili seasoning will last up to several weeks, depending on how often you use it. Be aware of the expiration dates on the spices and herbs you use to make it.
More seasoning recipes:
If you like this recipe and make it, let me know in the comments below! Don't forget to rate it if you enjoyed it!

Homemade Chili Seasoning
This homemade chili seasoning mix is the best blend of spices that will give your chili the heat and signature flavor. You only need 5 peppers and herbs to make it and always have on hand!
Instructions 
Place all spices in a small bowl.

Whisk together well.

Place in a spice jar or container with lid.

Use 1 tablespoon of seasoning per 1 lb of meat for chili.
Notes
This seasoning is not equivalent to a store-bought packet. They contain cornstarch and other ingredients, while this is a blend of peppers and herbs. Use more according to your preferences.
For the best flavor, saute peppers, onions, and garlic, then add seasoning to toast it. It activates it so the whole dish has the flavor. Do not just sprinkle it over chili at the end of cooking.
This seasoning mix will last for several weeks.
Please note, that the nutrition value can vary depending on what product you use. The information below is an estimate. Always use a calorie counter you are familiar with.
Nutrition
Calories: 38kcal | Carbohydrates: 7g | Protein: 2g | Fat: 2g | Saturated Fat: 0.3g | Polyunsaturated Fat: 1g | Monounsaturated Fat: 1g | Sodium: 134mg | Potassium: 231mg | Fiber: 5g | Sugar: 1g | Vitamin A: 2637IU | Vitamin C: 1mg | Calcium: 85mg | Iron: 3mg