When we think of green living, knowing what we put in our bodies, along the lines of clean eating, comes to mind.
But what about the products we put on our bodies?
Our skin is our largest organ of absorption, so when it comes to health, using clean body care products is equally as critical as what we eat.
Healthy Body Care Products from Head to Toe
That's why I've put together my guide, Healthy Body Care Products from Head to Toe.
Like the healthy cooking recipes I've created, the products selected here are simple and pure.
How to Stay Healthy in a Toxic World
I've been in the health industry since the early 1990s and using nontoxic personal care products for the last thirty years.
Sometimes I like to make my own.
More often, I buy the purest products I can find.
Green Living and Multiple Chemical Sensitivities (MCS)
Another reason I do this is because I have multiple chemical sensitivities.
Clean Living to Avoid Liver Issues
But even if you don't suffer from MCS, it's important to use clean body care products. Why?
Because your skin is the gateway to the liver. And your liver filters out toxins from your body.
In this toxic world, sometimes your body will absorb more toxins than your liver can handle.
This toxic overload can lead to:
And unfortunately, other health ailments such as MS, Celiac Disease, and more.
Toxins in Everyday Products
This is why it makes no sense to eat organic healthy food and slather on personal care products that contain toxic ingredients such as:
parabens -hormone disrupters, damage endocrine system
phthalates -carcinogenic plasticizer chemicals
chemical fragrance –unregulated mixture of ingredients
formaldehyde -known carcinogen found in makeup
mercury -damaging to nervous system, found in cosmetics
The above are some of the unsafe ingredients the FDA allows in our personal care products.1
If you're interested in non toxic living you don't want these types of ingredients on your skin.
Green Living Products
While I know all of the above is a lot of bad news, there is good news too.
When it comes to healthy living, I've done the work for you.
Best Non Toxic Body Care
Below are my favorite clean personal care products from head to toe. Read on to get the scoop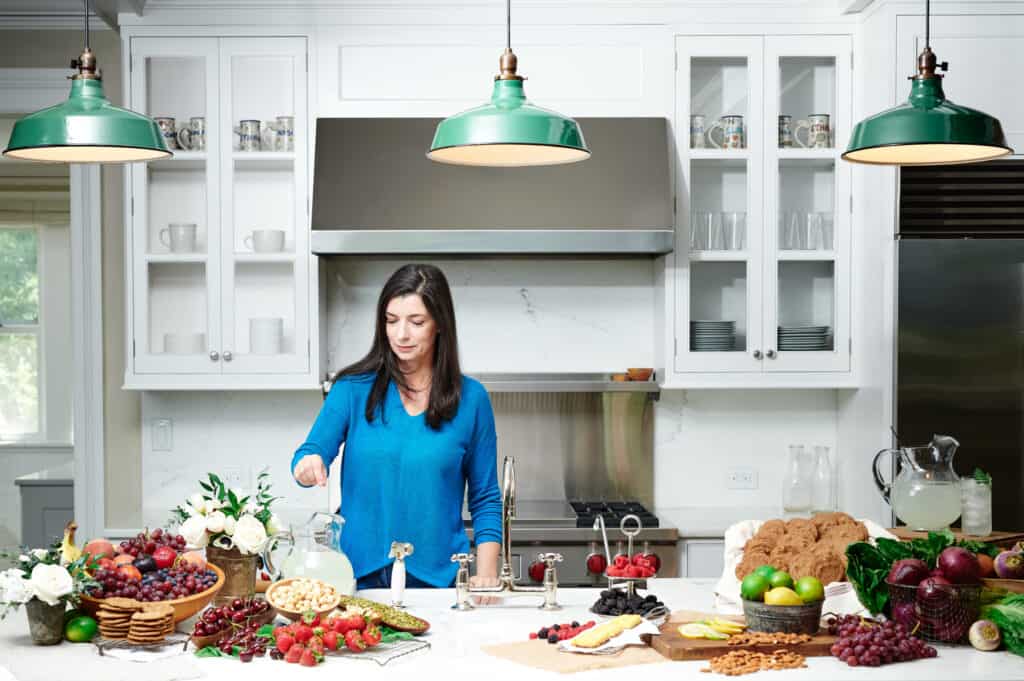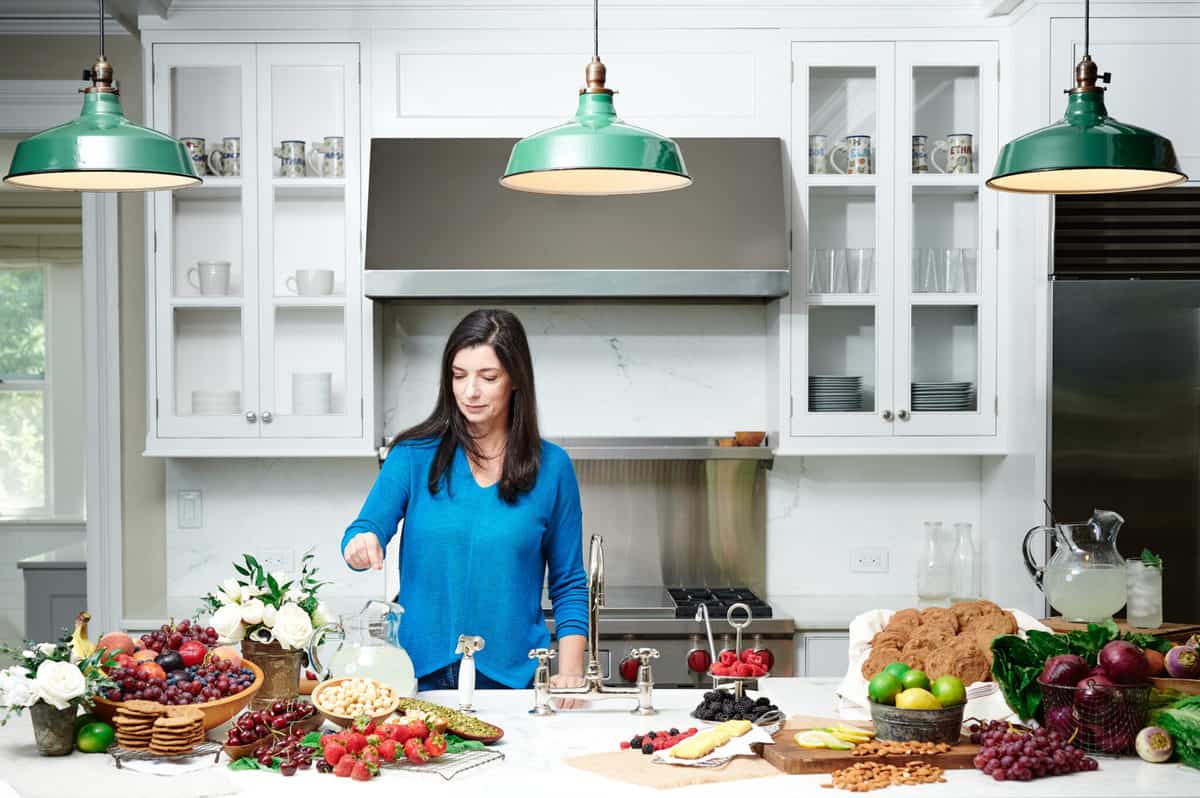 Organic Shampoo & Conditioner
Let's start with hair. I have very dry skin and hair, so I don't wash my hair every day.
I've used Acure's Mint Shampoo for as long as I can remember. After a good wash, I condition my hair with this Mint Conditioner that's incredibly moisturizing.
To help make my hair more silky and soft I take four grams of fish oil every day.
Although I'm often asked what I use to color my hair, I haven't dyed it yet. My hair is naturally a dark shade of brown that's very close to black.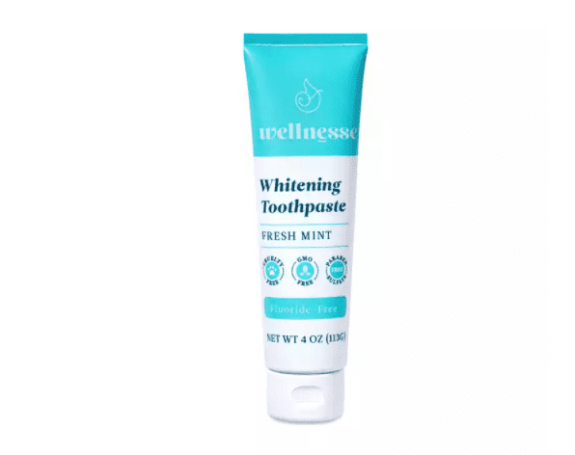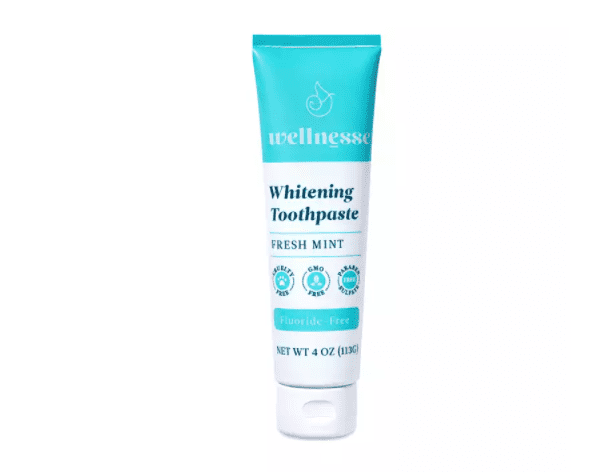 Dental Care
I love Wellnesse whitening toothpaste and use it every morning and night. Baby Pantry uses Wellnesse charcoal toothpaste.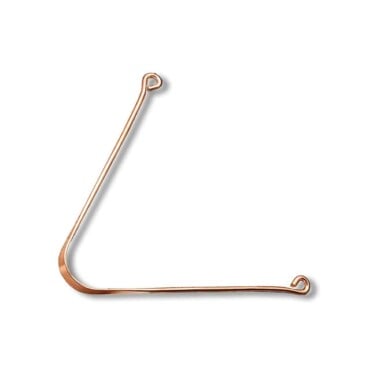 After we brush our teeth we use our Copper Tongue Scrapers. My mouth doesn't feel clean in the morning until I've done that.
I learned about tongue scraping decades ago during my Ayurvedic training and am a firm believer!
Sometimes I use this Echinacea Mouthwash from Dental Herb Company.
Finally, I can floss without guilt since Wellnesse has dental floss housed in cardboard packaging, rather than plastic!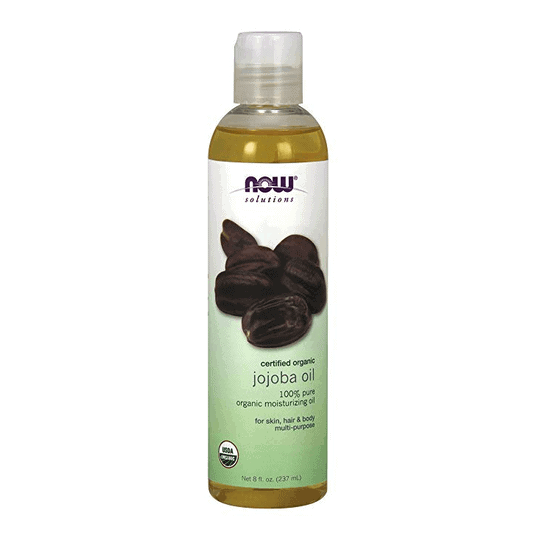 Organic Face Care
I have all kinds of healthy personal care products for your face in my write-up on Safer Skincare.
In a nutshell, my nightly routine is quite minimal and extremely cost-effective.
Forget about expensive products full of toxic chemicals from a fancy department store.
I buy my face oil at the health food store. Why? My philosophy is that I don't like to put anything on my body that I wouldn't ingest!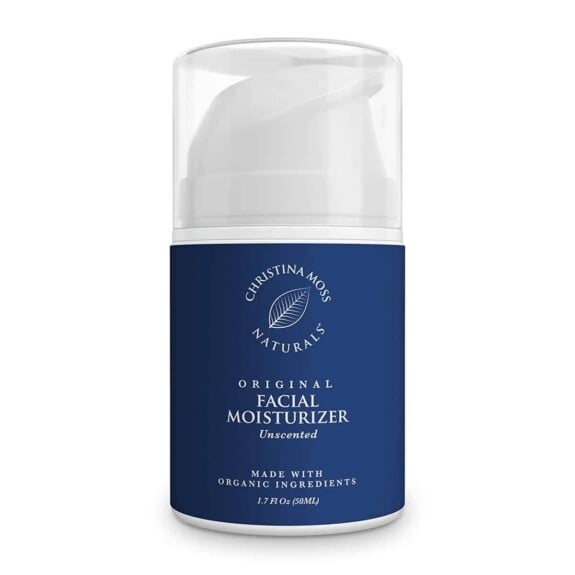 Each night, I rub organic jojoba oil on my face, then use a warm organic cotton washcloth to remove it. After that, I apply Christina Moss unscented facial moisturizer for dry skin.

Natural Clean Makeup
I rarely, if ever, wear makeup. When I think of beauty I think of health before I think of makeup.
My write-up on Natural Makeup features all of the makeup I own, which fits in the one small bathroom drawer pictured above.
For me, beauty is from the inside out. Here are a few of my favorite beauty tips: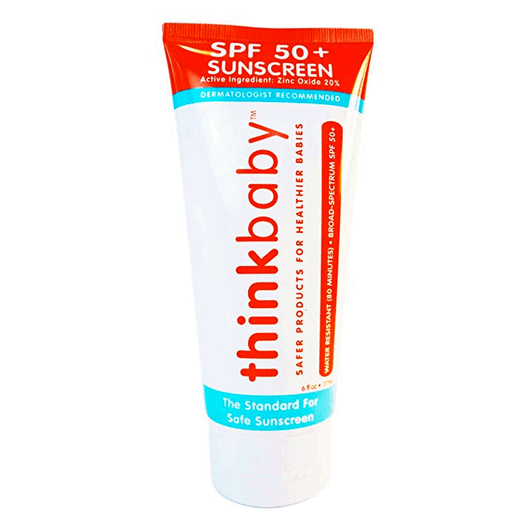 Safer Sunscreen
I have a great post called Safer Sunscreen with my favorite non-toxic products in it.
Recently, a number of mainstream sunscreen brands including:
Coppertone
Neutrogena
Aveeno
Had products that were recalled because they were found to contain benzene, a very toxic, carcinogenic chemical.
Given these types of incidents, I find researching healthy living more important than ever.
Natural Deodorant
Ever wondered how to make deodorant?
With only three ingredients, my Spruce Rose Deodorant recipe is a cinch to throw together and smells incredible.
For non-toxic deodorant that's store-bought, I recommend Schmidt's unscented magnesium-based product.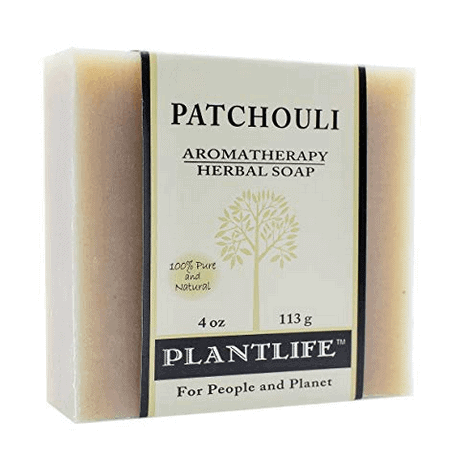 Natural Soap for Hands & Body
Sometimes we use this Plantlife Patchouli Soap for hands and body. It doesn't dry out our skin and we like the mild scent of the essential oils.
Lately, I've been using Dr. Bronner's Pure Castille Soap Bar and love that it's unscented.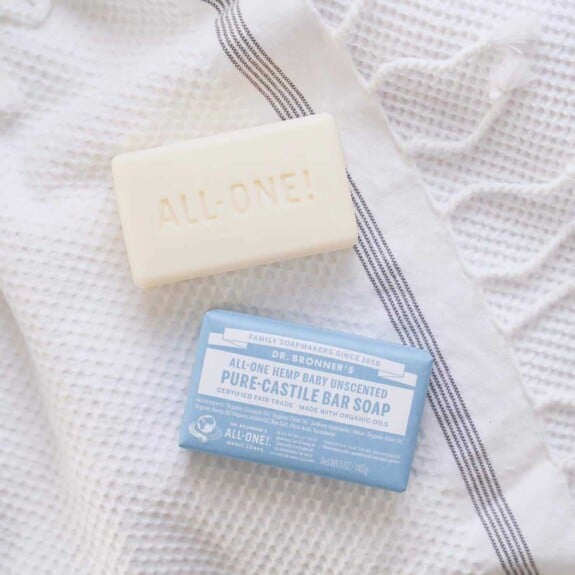 Organic Hand Lotion
Ok, now I have a question for you.
What's your favorite unscented organic hand lotion? I've been looking for some time and come up empty-handed. 😊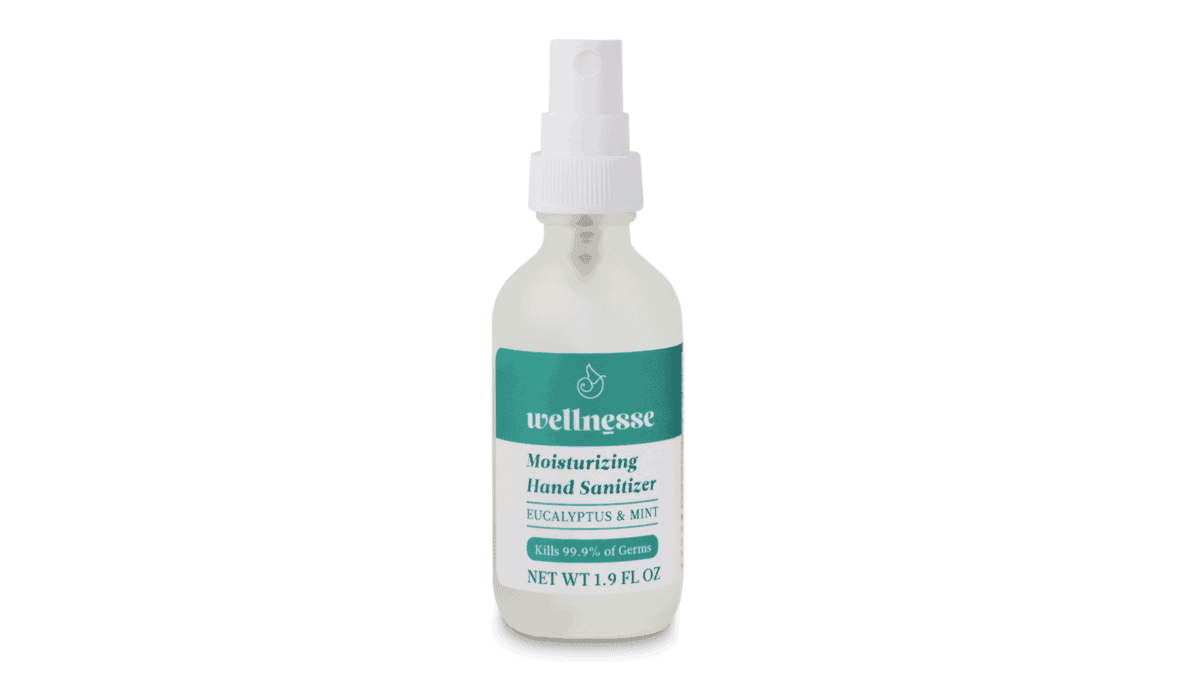 Natural Hand Sanitizer
Wondering is hand sanitizer toxic? That's a great question.
Thankfully, Wellnesse is the perfect choice when it comes to hand sanitizer.
That's an important consideration when you look at the Hand Sanitizer Recall List which includes the following brands:
Kleengel
Kilvir
SOHO
Medically Minded
That's just the tip of the iceberg, there are dozens of other companies on the list.
Some are on the recall list due to toxins in their products, others for creating hand sanitizer not potent enough to kill germs.
Thankfully, Katie from Wellness Mama founded Wellnesse, a company with healthy products that are safe for her family and mine!
I keep Wellnesse hand sanitizer in my purse and car.
Made with a base of alcohol and lightly scented with eucalyptus and mint, this natural hand sanitizer really gets the job done.

Magnesium Cream
I have a slight magnesium deficiency.
To address this I take an oral magnesium supplement called Mag Mind, as well as the transdermal magnesium lotion from Ancient Minerals, above.
Foods with Magnesium
If you're magnesium deficient you may be wondering which foods are high in magnesium. Here's a quick cheat sheet for you:
Kale
Spinach
Dark Chocolate
Almonds
Cashews
Unscented Shaving Cream
I shave my legs once a week unless it's the height of summer when I'm in shorts every day.
I searched far and wide for a nontoxic, unscented shaving cream that would leave my legs feeling silky smooth.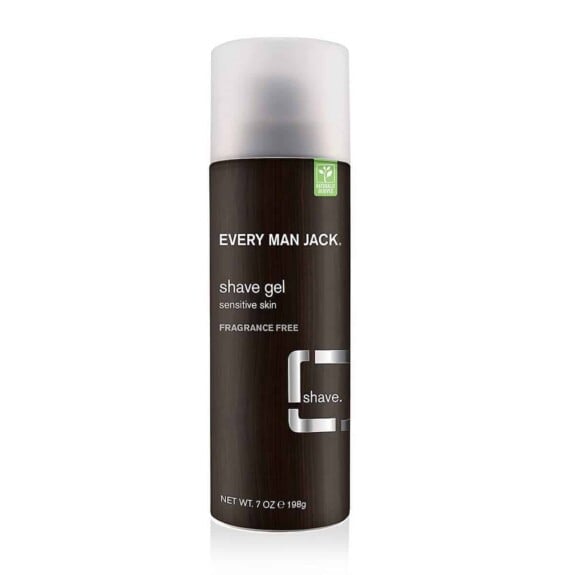 Thankfully, I found Every Man Jack Shaving Cream –I love it and buy the unscented product.
Organic Feminine Hygiene Products
I'm in menopause now, but prior to that I used the following feminine hygiene products:
Due to knowledge from my Ayurvedic training I used pads, with the exception of tampons for swimming and HBOT treatments.
The Body Care Products Maze
Clean body care can be overwhelming.
We use a multitude of products, including soaps, lotions, and similar items on our skin every day.
So here are a few final thoughts now that I've shared the best clean body care products with you.
Stink the Movie
My job as a wellness warrior and health educator has included teaching cooking classes, writing easy, healthy recipes, and sharing them with you.
Likewise, guiding people through the personal care product maze is an involved process.
So I want to take a moment to share a favorite resource, Stink the movie.
Failure to Regulate Beauty and Personal Care Industries
I love the philosophy espoused in this film which outlines the lack of oversight and regulation of the Personal Care-Beauty-Industrial Complex.
Fragrance and Cancer-Causing Chemicals
The term "fragrance" is used by the industry as a shield behind which to hide a multitude of trade secrets which are actually an assortment of cancer-causing chemicals.
This is why I steer clear of each and every product that contains the word "fragrance" on its ingredient list!
I cannot emphasize this enough when it comes to health.
Forget about all of that organic broccoli you ate last night, you just canceled it out with that toxic sunscreen full of cancer-causing benzene.
There are many toxins in our environment created by an industry that's severely under-regulated and somewhat out of control.
As consumers, we have the opportunity to control that which we purchase, bring in our homes, and expose our bodies to.
What Choice Will You Make?
When it comes to your health, what choice will you make?