American Falls resident Sara Fonseca has for several decades wanted her own restaurant while still finding ways to share dishes from her homeland of central Mexico to those in Southeast Idaho.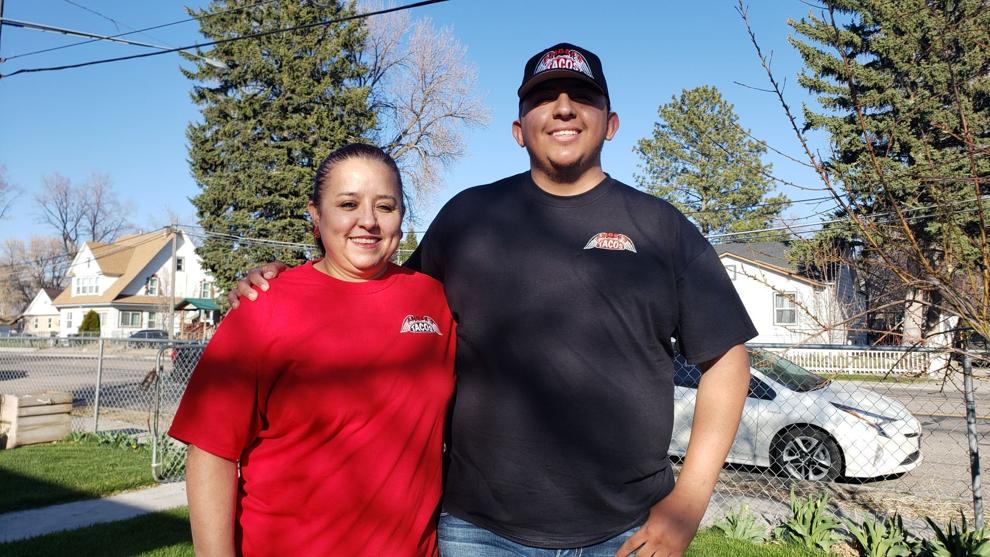 In the late 90's she built a small following selling tacos and sopes on the sidewalk in front of her home until she was forced to stop because she didn't own the proper licensing. In 2003, she took home the $100 grand prize for making the best menudo during the Fiesta in the Park at the American Falls City Park.
And just recently, her ability to serve up Fonseca specialties like birria or a 36-inch super burrito became much easier after her family purchased a mobile food trailer.
"It's always been my mom's dream to open up her own business," said Angel Fonseca, one of Sara's four sons, who also shares his first name with his father. "Life was hard for her growing up in Mexico. She had her own little restaurant when she was 15 before she and my dad immigrated to America when they were young."
The bright red trailer the Fonseca family purchased will house their latest business venture, Angel's Tacos, and the star of the show will almost certainly be the slow-cooked beef birria.
A dish that originated in the Mexican state of Jalisco, located just southwest of Sara and Angel's home state of Michoacán, birria is a meat stew that traditionally calls for goat or mutton. Thanks to TikTok and Instagram, birria has seen a meteoric rise in popularity and is the latest dish to amass a cult following, due mostly to various eateries advertising photos of their juicy, gooey and crispy quesabirria taco variations.
The Fonseca family opted for beef for its birria, as it's more accessible and tastes less gamey than goat, of which the latter is mostly reserved for special occasions in Latin culture. The meat is slowly braised in a consommé — a depthly-flavored stew with a blend of spices, dried chilies, onions, garlic and fire-roasted tomatoes.
At Angel's Tacos, you can order the beef birria shredded and served in the consommé or as a meat option for the tacos, sopes, quesadillas and burritos.
To make the quesabirria tacos, Sara shreds a bit of the birria meat and mixes it with some of the red-stained fat of the consommé. One side of a homemade tortilla is dipped into the fat and fried. As it sizzles, a heap of cheddar cheese is added, followed by the meat. As the tortilla browns, it is folded in half and hopefully some of the cheese escapes to create a lacy, crispy edge. The taco is topped with onion, cilantro and lime juice and served with a radish garnish, sides of fresh green and red salsa and a cup of the consommé upon request.
All tacos are $1.75 each except for the quesabirria, which costs $3. Sopes, essentially an open faced tacos on a fried masa base in exchange for a tortilla, are $2.50 each. Quesadillas without meat are $3 and those with meat are each $5.50 and regular burritos are each $7. A side of the consommé is $4.
"We source all of our meat locally and slow-cook the meat for at least eight hours," Angel said. "We basically have to just let the birria do its own thing. The consommé is a huge hitter as well as my mom uses a special blend of secret spices and chilies."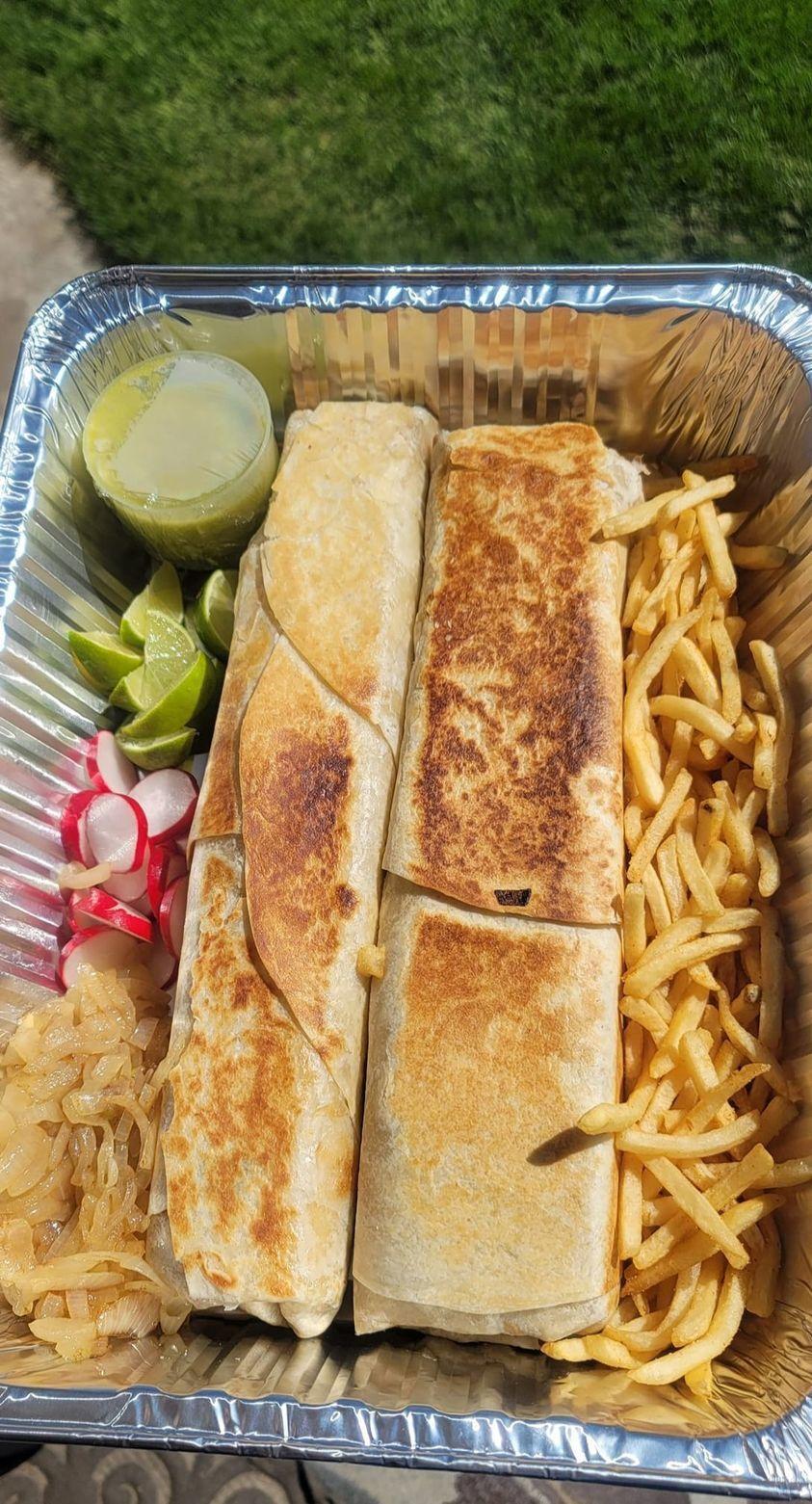 While not nearly as trendy as the birria, the Angel's Tacos 36-inch Snake River Burrito ($36) is sure to satisfy any appetite. A massive tortilla encapsulates a combination of onions, cilantro, refried beans and Mexican rice. In addition to the birria meat, patrons can choose from carne asada, al pastor pork, chorizo and carnitas as meat options. The Snake River Supreme Burrito ($38) is the same burrito served with lettuce, tomato, cheese and sour cream.
An array of Mexican beverages rounds out the menu, including horchata, jamaica and a specialty of Sara's — a pineapple, spinach infused water called piña y espinacas. On the weekends, they'll also offer Sara's menudo, a tripe stew served in broth with a red chili pepper base. Hominy, lime, onions, and oregano are typically used to season the broth.
The current plan is to move around quite a bit, but with a set schedule, Angel said.
The truck's grand opening was at Fresh Start Auto in Pocatello, 1407 Yellowstone Ave., on Saturday. The line to order stretched about 20 yards from the window, with some patrons bearing a brief rainstorm to get their taco fix. The truck was in Twin Falls on Sunday.
Every Tuesday and Friday the truck will be in front of Wanderlust in Pocatello, 1799 Hurley Drive, Suite A. Angel said he's in the process of getting added to the Monday Night Food Truck Roundup at the Historic Downtown Pocatello Pavilion, 420 N. Main St. The truck will be open six days a week from 11 a.m. to 9 p.m. and is closed on Thursdays. You can find out where the truck will be for any given day by following them on Facebook, angelstacos21, or Instagram, angels_tacos.
The Fonseca family has been working to open the taco truck since November. In January they found and purchased the trailer. A major setback almost completely derailed the endeavor, however.
The trailer was not equipped with a ventilation hood or fire suppression system required by city code. The cost to have that equipment installed totaled over $12,000.
"At that point we were considering just flipping the food truck because of that huge expense," Angel said. "But we ultimately decided to just go all in. We are already halfway there, so we said let's just go for it. We dipped into our savings with the hope we'll make all that money back. It would be a huge regret of ours if we couldn't get this done for our mom."
Spending several thousand dollars to properly equip the trailer wasn't the only leap of faith involved in the venture. Sara and Angel both recently quit their jobs to operate the truck. They were both working at Lamb Weston, a potato processing plant in American Falls. For Sara that meant leaving behind a job she'd held for the past 17 years.
"It was a little crazy making the jump, but this taco truck is definitely going to be a success," Angel said. "Our food reputation is huge. We sold at American Falls Days and are excited to bring our menu to more of Southeast Idaho."